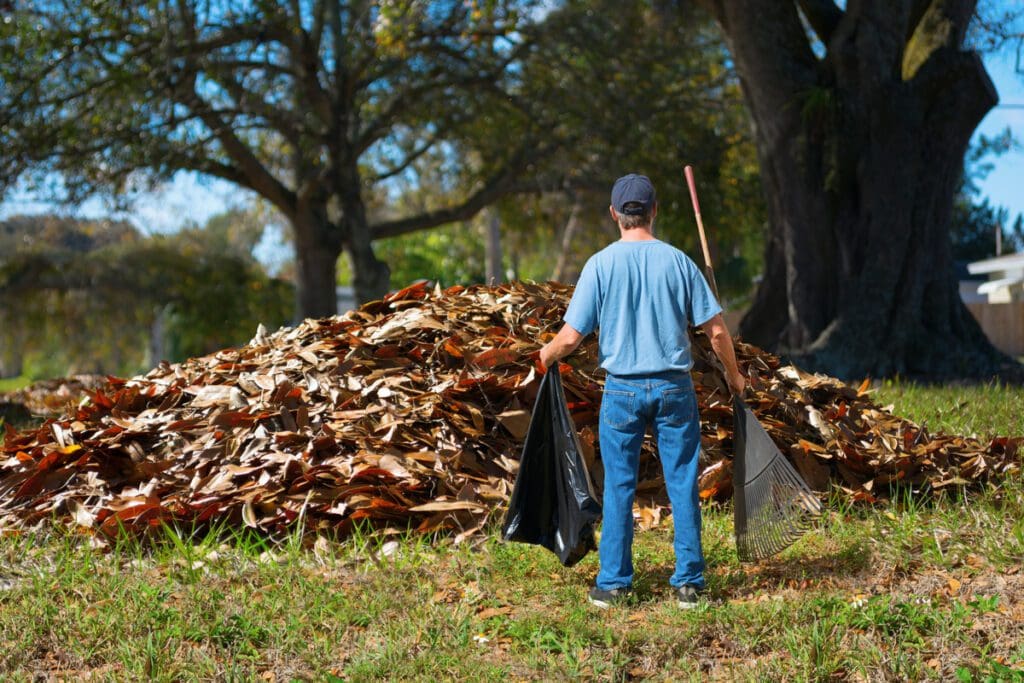 Keeping a residential lawn looking its best takes a lot of hard work. Homeowners in the United States spend millions of dollars every year on professional landscaping services. During this time of year, leaves start to become a big problem. Some homeowners think that raking leaves off of their lawn is a thankless and unnecessary job. 
Not only can a leaf-covered lawn reduce the amount of curb appeal a home has, it can also do lots of damage to the grass. Removing leaves from your lawn is important and here are some reasons why. 
Leaves Create a Perfect Environment For Pests
When the temperatures outside start to dip during the winter months, pests start to become a big problem for homeowners. The average pest will look for a warm and dark place to hide to escape from frigid temperatures. Most homeowners fail to realize that a thick blanket of leaves can be used as a home for dangerous pests. 
Common pests like snakes and spiders make a habit of hiding in leaf piles during this time of year. The longer you allow leaves to remain on your lawn, the higher the risk becomes of your pets or children coming in contact with unwanted pests. Rather than putting yourself and your family in danger, you need to realize the importance of removing leaves from your lawn. With the help of the team at ScapeWorx Landscaping & Design, you can get leaves removed from your lawn in a hurry. 
Avoid Suffocating Your Grass
Having a lawn full of lush green grass is something most homeowners are passionate about. A healthy lawn boosts the curb appeal a home has substantially. If you want your grass to remain healthy during the fall and winter months, then you need to make sure it gets plenty of water, air and sunlight. The amount of water and sunlight your grass gets will be severely diminished if it is covered with leaves. 
Allowing a thick blanket of leaves to sit atop your grass for months on end can result in lots of damage. Instead of suffocating your grass, you need to remove leaves quickly. By doing this, you can provide your grass with the elements it needs to stay healthy during the colder months of the year. 
Wet Leaves Can Cause Fungal Growth and Disease
Allowing damp leaves to coat your lawn can also lead to the development of mold and other harmful diseases. When mold starts to develop under the leaves, harmful and toxic spores will be released into the air. These spores can cause respiratory issues if they are breathed in by animals or humans. If you want to avoid the risks caused by fungal growth and mold, then you need to invest in professional leaf removal services. By paying professionals for this help, you can get the leaves removed from your grass in a timely manner. 
Now that you know how important leaf removal is to the overall health of your lawn, it is time to reach out for some professional assistance. ScapeWorx Landscaping & Design will have no problem helping you remove leaves from your lawn.