ScapeWorx Landscape Design & Maintenance Provides Upfront Pricing and Transparent Communication
Transforming your home's landscape with a brand new landscape design or professional landscape maintenance should be exciting, not stressful. But when landscaping companies provide vague estimates, unclear scopes of work, and changing answers, the idea of a complete landscape renovation can suddenly seem daunting. That's why the team at ScapeWorx Landscape Design & Maintenance provides upfront, honest pricing that homeowners can trust. We're committed to our company's "No Hassle, No Excuses, No Nonsense, You'll Love Our Work Guarantee," which includes clear communication and a foundation of trust from the very first time we meet. Once you tell our friendly team what you're looking for in your landscape, we'll schedule a Dream Meeting, where we can assess your property, discuss your must-have and wish-list changes, and what your landscape needs to stay beautiful for years to come. We'll give you a ballpark estimate and start creating your custom landscape design after receiving a design deposit. Once the design is complete, you'll have a materials pricing agreement and an accurate quote so you know exactly what to expect.
We also offer our services with clear pricing so you can choose the right fit for your budget, your property, and your dreams for the project. Honest communication is at the heart of how we do business, and we're committed to giving you all the information you need upfront so you never have vague pricing expectations or unanswered questions. Contact us today to let us know which of our services you're interested in, or scroll down to learn more!
Plan Your Landscape Installation Budget
We offer comprehensive landscape design + build services with the following elements:
Design Services
All landscape design and installation projects require a design:
Photorealistic Design Plan (including two revisions): $247+ 
Typically for jobs that just require a smaller amount of plant material
3D and Lifelike Renderings (including two revisions): $897-$3,497+
Usually include a front and/or backyard makeover or a new construction property with plants, walkways, patios, fire pits, pergolas, outdoor kitchens, & more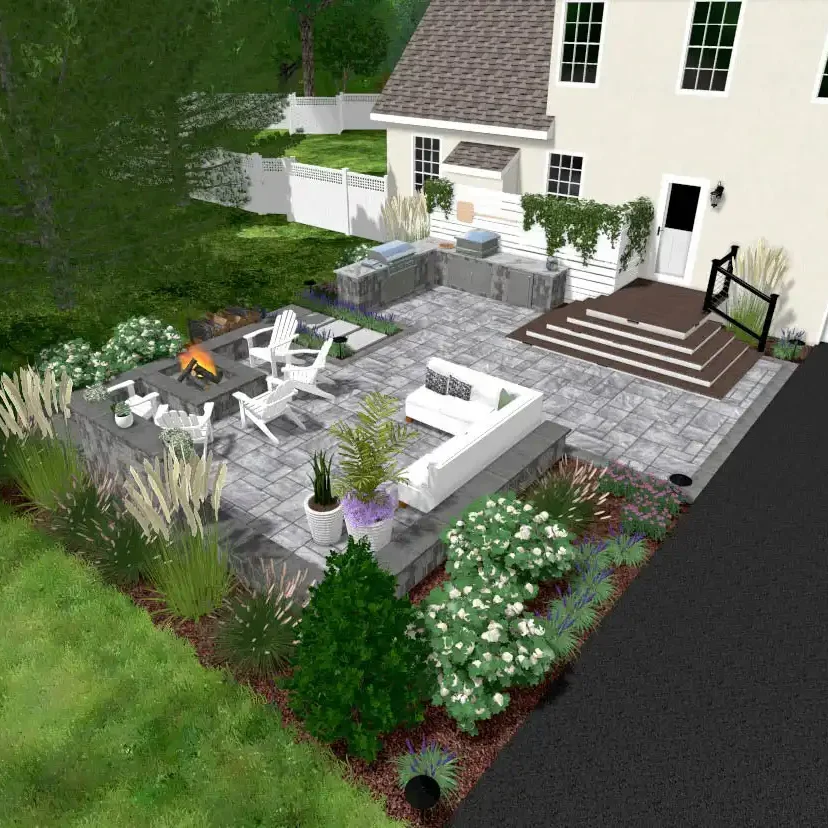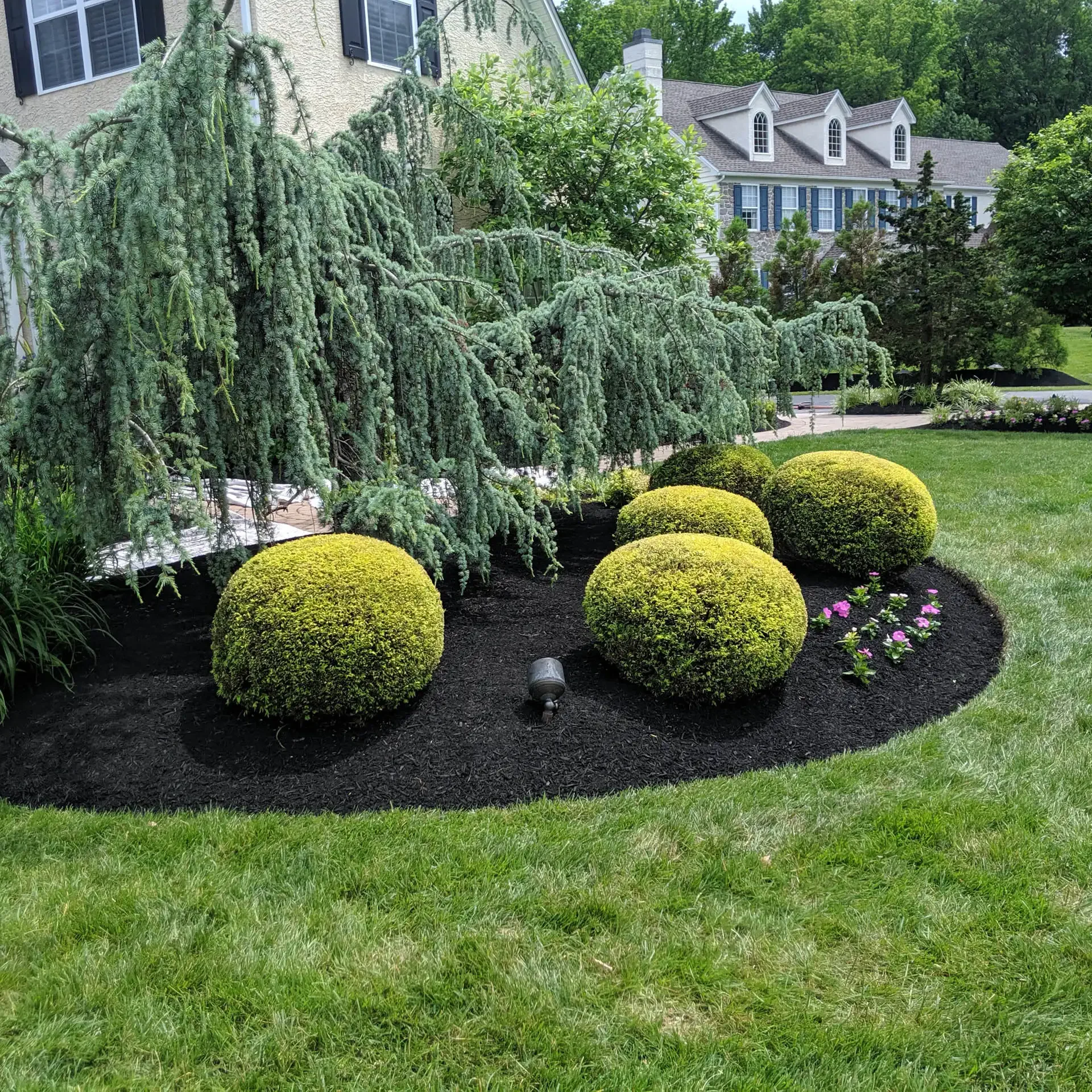 Plant Installation Options
Clients can choose smaller landscape refreshes, front yard makeovers, whole-property transformations, and more with our plant installation services:
Front Yard Makeover (design services required): $4,997+
Entire Property Projects (design services required): $9,997-$49,997+
Smaller projects for adding or removing plants: $1,497-$4,997+ (depending on scope)
Privacy Screening: $2,997+
Price is dependant on length, plant material chosen, size and density of the screening
Add Depth to Your Landscape With Custom Hardscape Features
Customize your front lawn or entire property with hardscaping construction services:
Walkways and Pathways (custom material, shape, and size options available): $5,997-$14,997+
Retaining and Seating Walls (standard pavers, stone stack options, or custom walls with a concrete footer, cinder blocks, and stone veneer): $4,997-$49,997+
Custom Driveway Apron and Border (cobblestone, bluestone, or pavers): $4,497-$13,997+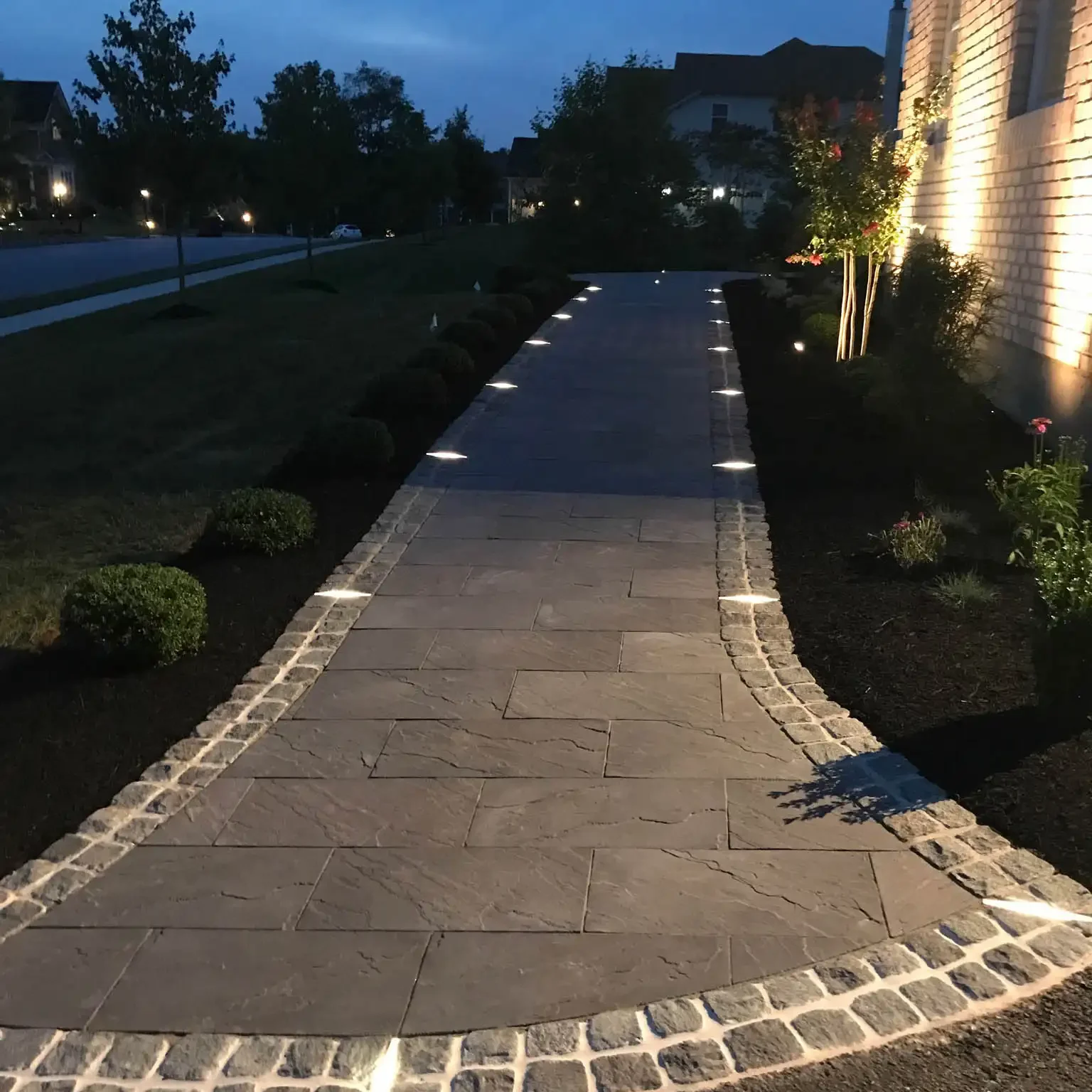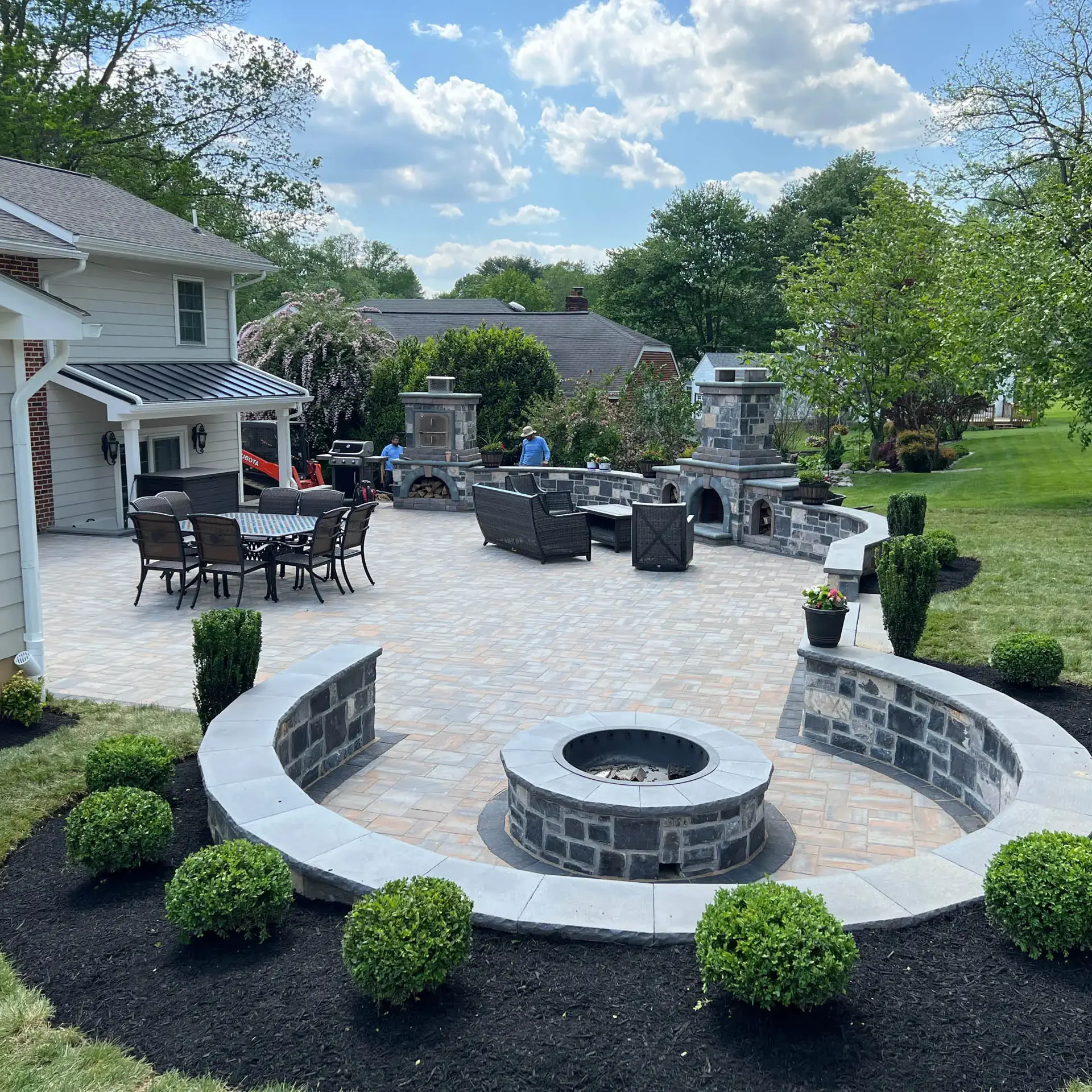 Extend Your Home's Living Space With Outdoor Living Features
Create an outdoor oasis with premium features, such as landscape lighting, a patio, fire pit, and deck. Standard and custom options are available.
Landscape Lighting: $2,497-$7,997+
Standard Fire Pit: $2,997+
 Gas/propane options will cost more
Custom Fire Pit (with concrete footer, cinder block construction, fire bricks, and stone veneer): $4,497+
Decks: $9,997-$79,997+
Deck height, shape, size, railings, steps, & rainscreens all play a factor in the pricing
Patios: $7,997-$79,997+
Enhance Your Landscape With Premium Services
Protect your landscape with grading and drainage, or beautify your property with fresh sod:
Downspout Drains (price is dependent on run length and the number of downspouts): $397-$3,997+
If underground chambers are required to store water they will be quoted on a per job basis
Soil Grading (price is dependent on size, complexity, and swales on your property): $1,297-$9,997+
Sod Installations: $897-$9,997+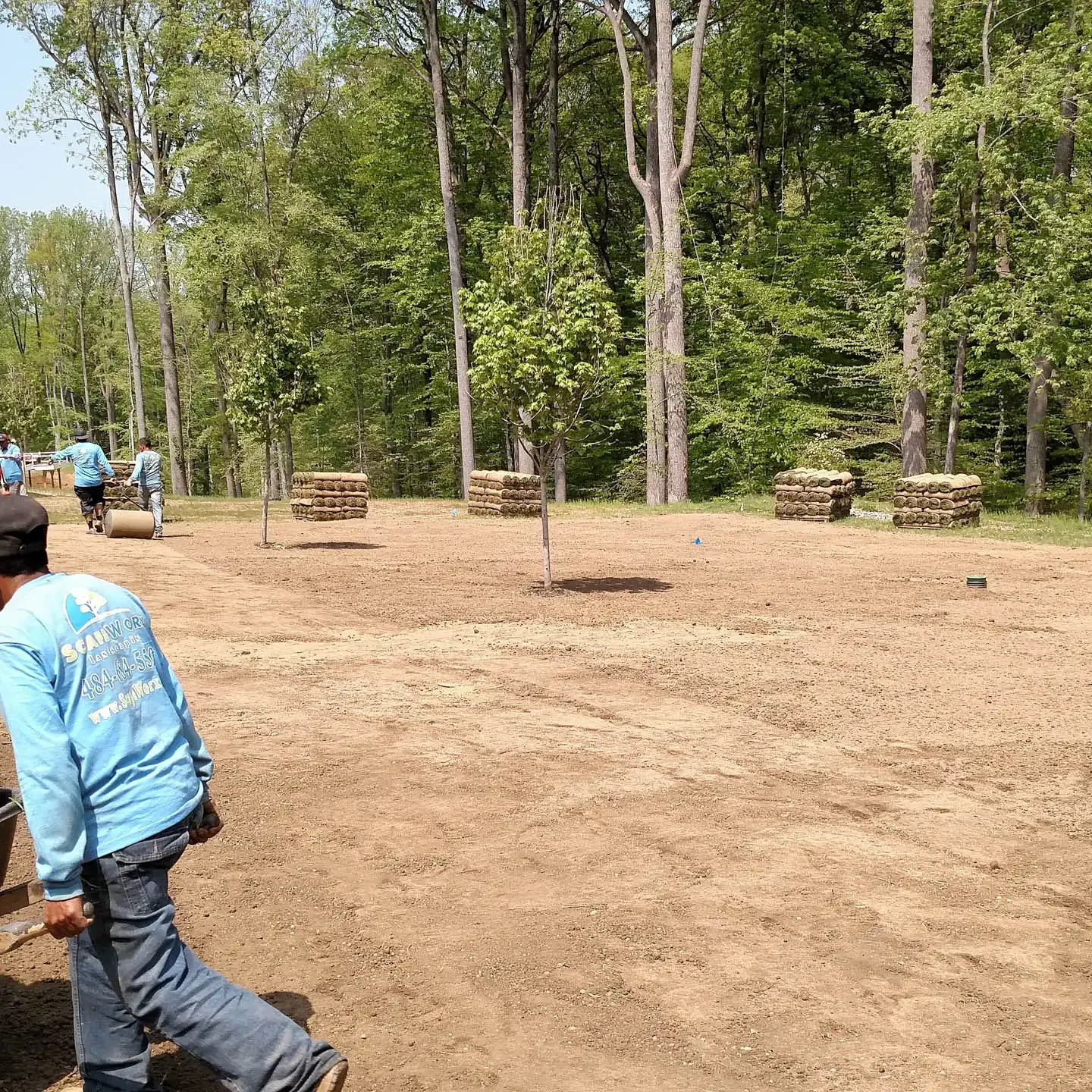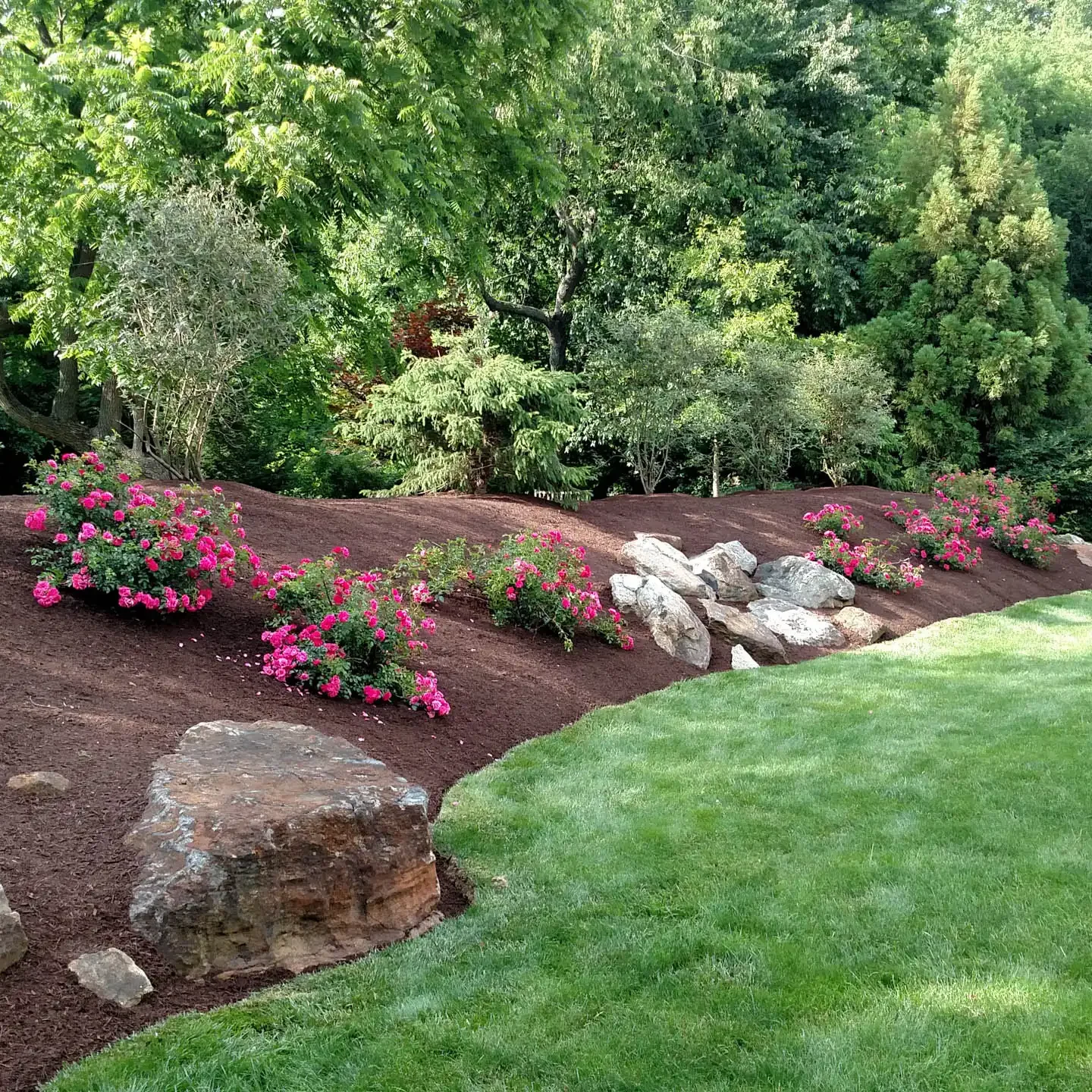 Enjoy the Convenience of Customized Landscaping Services
Our team offers personalized landscaping service plans so you can rest easy with as much or as little landscaping maintenance as you'd like. Mix and match these services to create your plan:
Mulching (edging is included in the price): $497-$3,997+
Garden Bed Pre-Emergent Application: $39.77+
Pruning: Pricing available upon request, and is based on quantity, size, and types of plant material
Weeding: Billed hourly while we are at your property performing other work
Monthly Bed Maintenance Packages: Billed hourly with a $147 minimum
Spring & Fall Clean-Ups: $247 minimum prices will vary from property to property
Turf Fertilization: $497-$2,297+ per year, based on square footage of grass
Lawn Mowing/Maintenance: $49.77–$99.77+ per cut and is billed/charged on a monthly subscription basis
Serving Glen Mills, Pennsylvania, and Local Communities
With Landscape Design, Installation, and Maintenance Services
The team of landscaping experts at ScapeWorx Landscape Design & Maintenance is committed to excellence. Glen Mills, Pennsylvania, residents get five-star, no-nonsense landscaping services they can rely on from start to finish. We provide fast, clear communication, friendly service, and honest work. If you live in one of our service areas, we'll take your property from ordinary to extraordinary, and we'll keep working until it meets our standards for excellence. We serve these suburbs in the Philadelphia, Pennsylvania area:
For landscaping design and installation:
Berwyn, Pennsylvania
Kennett Square, Pennsylvania
The Main Line
Thornton, Pennsylvania
For customized landscape maintenance services:
Media, Pennsylvania
Thornton, Pennsylvania

Berwyn, PA
Berwyn, PA
Chadds Ford, PA
Garnet Valley, PA
Gladwyne, PA
Gladwyne, PA
Glen Mills, PA
Kennett Square, PA
Kennett Square, PA
Lower Merion, PA
Lower Merion, PA
Media, PA
Media, PA
Newton Square, PA
Newton Square, PA
Thornton, PA
Thornton, PA
Wallingford, PA
Wallingford, PA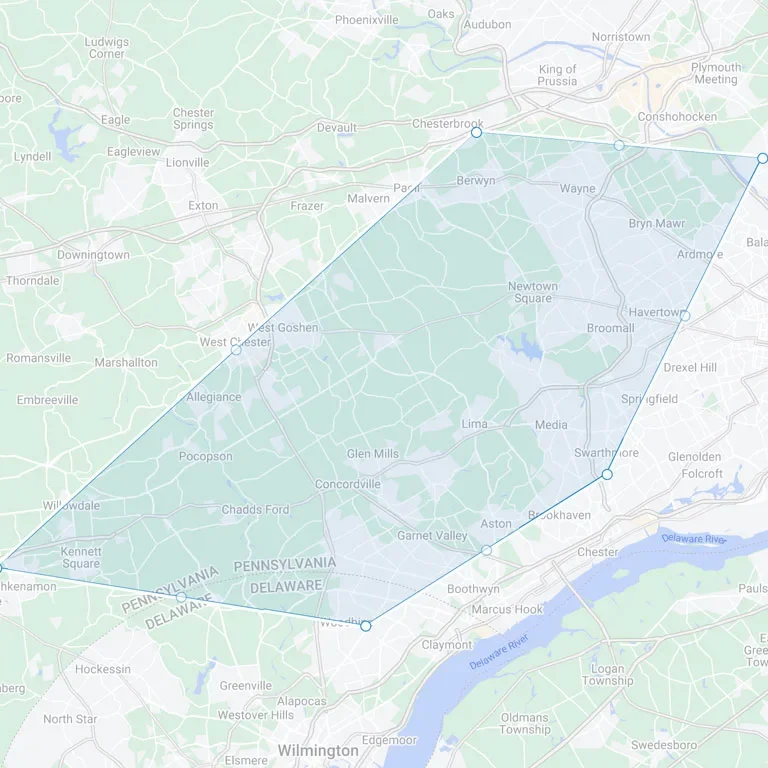 Talk to Our Team Today
to Get Your Project Started
Ready to transform your property with high-quality landscape installations or spruce up your property with professional maintenance? Fill out our online form today to let us know what you'd love to see on your property.