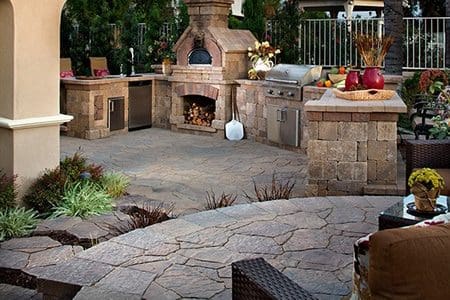 Here at Scapeworx, we're proud to be one of the most reputable providers of landscape design, installation, and maintenance services across Pennsylvania and surrounding areas. Our highly trained team of landscape professionals offer competitive prices on a wide range of services. We create amazing landscapes for families and friends to enjoy including outdoor patios and dining areas. But what are the benefits of eating outside?
Entertainment Value
One of the benefits of having an outdoor dining and patio area is that it's often a perfect space for entertaining guests. Whether they're crowding around a barbecue or enjoying a bottle of wine, the outdoors are a great place for socializing. In the colder months, you can always use outdoor heaters and lighting to set the mood and keep everyone warm.
Outdoor Landscaping Increases the Value of a Property
Home improvement is prevalent across the United States. Therefore investing in landscaping services or outdoor renovations often adds value to a property. Not only this, but it also increases the aesthetic appeal of a property, adding a sense of pride to homeowners when they know that they've invested in a beautiful renovation.
Save Cash on Utility Bills
When you're using an outdoor grill and cooking for friends or family, you don't have to rely on your AC unit to keep people cool. Indoor cooking produces a lot of heat; this can raise the temperature of the house by several degrees. As a result of this, AC units work harder, and utility bills increase.
Keep Smells Outside
While some foods smell amazing as they cook, others are less palatable. Fish and deep fried items often leave unwanted odors lingering within our homes. When you prepare these foods outside, the smells dissipate into the world, and your home remains smelling fresh.
Your Living Space is Expanded
The outside of your property is an extension of your living space. Once it's renovated, you can move furniture outside and enjoy the ambiance on an extension of the property that you own. You can now celebrate any special occasion in the great outdoors but with your home comforts close by.
Click here to view our fantastic options for outdoor landscaping and renovation solutions.