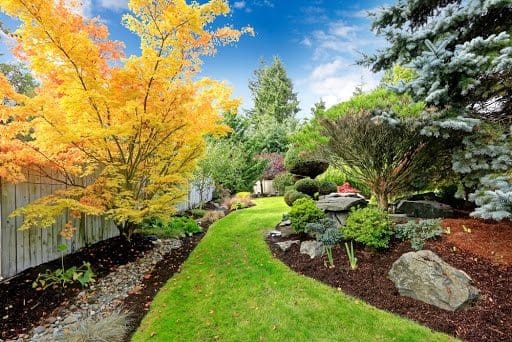 Whether you've owned a property for years or you're just in the beginning stages of building your very first home, one of the most important factors to consider is the value that the proper landscaping will add to your lot. Not only will the appropriate landscaping add immense aesthetic value, but the proper design will increase your property's appraisal value and even lower utility costs substantially.
Landscape design goes far beyond the grass or the garden; it is an earthy-canvas on which a homeowner has the ability to display their connection to the natural beauty of the world around them. For our team of professionals at ScapeWorx, the objective is to use our knowledge and expertise to custom tailor each service to the wants and needs of our customers.
Not only will properly positioning trees and shrubs increase air quality and reduce outside noise pollution around your property, but our landscape design experts can also help reduce your home's energy consumption by up to 25%. Additionally, investing a small 5% fraction of your property's value into the exterior design can increase the home's total resale value up to 15%.  
ScapeWorx Services
Offering our landscape, maintenance, and outdoor living services all year-round, No team is more dedicated to landscape design than we are. Through our combined decades of industry experience and use of cutting-edge 3D modeling technologies, we're able to transform any landscape installation or renovation project into an immersive outdoor experience.
Landscaping Services
Landscape Design & Install
Sod Installation
Seasonal Color
Landscape Renovation
Lawn Renovation
Grading & Drainage
Maintenance Services
Spring Clean Up
Pruning
Mulching
Weeding & Bed Maintenance
Leaf Clean-Up
Outdoor Living
Walkway
Patio & Firepit
Retaining Wall
Paver Sealing & Repair
Landscape Lighting
Trust The Work Of ScapeWorx
When you partner with our team at ScapeWorx, you receive the customer service and individual attention that you and your property deserve. Our team is fully licensed and insured, and all work is absolutely guaranteed. No matter which outdoor project concepts you dream up, our landscaping and design experts have the knowledge and know-how to craft it with utter perfection.
If you're interested in finding out more about all of the landscaping, maintenance, and outdoor living services we offer at ScapeWorx, give us a call today at 484-684-5500 or receive a free estimate by filling out the form through the website and let ScapeWorx go to work for you!