ScapeWorx Enriches Landscapes With Healthy Sod and Turf
The secret to a beautiful, eye-catching lawn is the sod or turf that sets the stage for all of your other plantings and features. Fresh rolls of sod quickly settle in and develop strong roots to cover landscapes in a blanket of vibrant green grass. They can be installed with precision to match the intricate, crisply edged garden beds in your front lawn, thrive around the roots of your ornamental trees, and stand up to foot traffic and games in your backyard. If you don't want to wait for grass seeds to develop in the spring, professional sod installation services can jumpstart your beautiful spring landscape.
Backyards and landscapes also benefit from artificial turf installation that stays seamlessly green season after season. Come home to a backyard putting green, a play area near your outdoor living space, or an elegant, eye-catching naturescape without any hassle or seasonal timelines. You won't have to worry about reseeding after the final frost or planting grass seeds in the late summer, Pennsylvania's prime season for starting grass the old-fashioned way. Instead, the local experts at ScapeWorx Landscape Design & Maintenance can provide convenient installations of fresh sod or artificial turf when it suits your schedule and the evolving needs of your landscape.
At ScapeWorx, we do it all so you never have to worry about limits on your landscape and outdoor living space. Comprehensive expertise is part of our signature No Hassle, No Excuses, No Nonsense, You'll Love Our Work Guarantee — whatever you want built or installed in your Glen Mills landscape, we have the expertise to get it done. Reach out today to tell us what you're looking for.
Coming Home to a Rich Carpet of Green Grass
Is Easier Than Ever With Our Simple Process
Transform your landscape from ordinary into extraordinary with professional landscaping services built to serve Glen Mills, Pennsylvania, and other Philadelphia suburbs. The ScapeWorx team excels at designing and installing custom landscapes that will boost your curb appeal and be a genuine joy to come home to. Ready to get started? Here's our no-hassle process where you tell us what you're looking for and we create a beautiful landscape that exceeds your expectations. We do the hard work so you can enjoy the transformation.
Clients Love How Quickly Their Landscape Comes Together With Professional Sod Installation by Local Experts
See the Difference High-Quality Sod and Turf
Can Make in Your Custom Landscape
Take your landscape from ordinary to extraordinary. Explore our online gallery to see how expert sod installation can make every landscape brighter and more beautiful, without the patchiness of conventional grass seeds or the visible seams of standard-quality sod. With ScapeWorx, you get the best.
Enjoy Season After Season of Beautiful Landscaping With Our No-Hassle Landscaping Services
Don't juggle multiple landscapers or take on tasks that your professional landscaping company should be handling for you. At ScapeWorx, we do it all so you can enjoy collaborating with expert designers to create your landscape and then sit back to watch the new design come to life around your home. Even better, once your landscape installation is complete, we're here with comprehensive maintenance options.
Proudly Serving Homeowners and Businesses
in Glen Mills, Pennsylvania, and Surrounding Communities
The team of landscaping experts at ScapeWorx Landscape Design & Maintenance is committed to excellence. Glen Mills, Pennsylvania, residents get five-star, no-nonsense landscaping services they can rely on from start to finish. We provide fast, clear communication, friendly service, and honest work. If you live in one of our service areas, we'll take your property from ordinary to extraordinary, and we'll keep working until it meets our standards for excellence. We serve these suburbs in the Philadelphia, Pennsylvania area:
For landscaping design and installation:
Berwyn, Pennsylvania
Kennett Square, Pennsylvania
The Main Line
Thornton, Pennsylvania
Wallingford, Pennsylvania
For customized landscape maintenance services:
Media, Pennsylvania
Thornton, Pennsylvania
Wallingford, Pennsylvania

Berwyn, PA
Berwyn, PA
Chadds Ford, PA
Garnet Valley, PA
Gladwyne, PA
Gladwyne, PA
Glen Mills, PA
Kennett Square, PA
Kennett Square, PA
Lower Merion, PA
Lower Merion, PA
Media, PA
Media, PA
Newton Square, PA
Newton Square, PA
Thornton, PA
Thornton, PA
Wallingford, PA
Wallingford, PA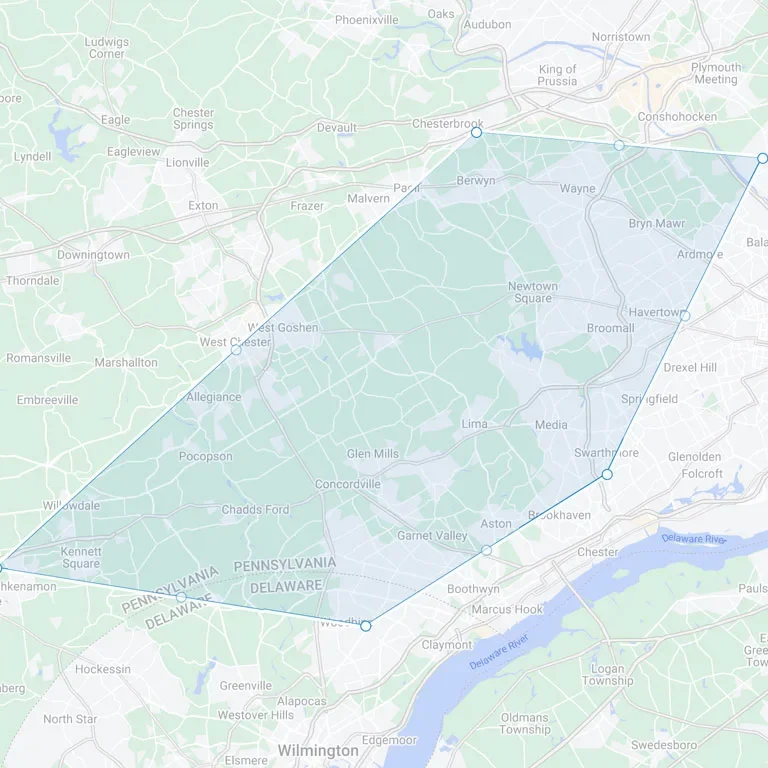 Contact Us Today to Start Redesigning Your Landscape
You'll Love Our Work