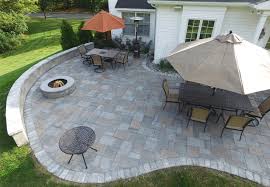 Hardscaping refers to the fixed, solid, nonliving aspects of your landscape. Hardscapes are things like retaining walls, patios, fire pits, stairs, and so forth. They are made of a variety of materials from stonework to pavers to brick to flagstone and more. Hardscapes add function and value to your property's landscape.
Set the Style with Hardscapes
Hardscapes are just as important in landscape design as trees, plant, and grass are. Hardscapes not only make your property's landscape functional for outdoor living or entertaining visitors, but they also set the style and scene and tell your neighborhood or property's story. Do you want to appear modern, luxurious, and imposing? Is your property's landscape style fun and tropical? Are you traditional and inviting or even a little whimsical?
Hardscape Materials
The materials you choose for your hardscape help you tell your story. Some popular materials include:
Pavers
Bricks
Stone
Flagstone
Concrete
These materials are available in a multitude of styles and colors, which gives you a lot of flexibility in terms of the overall impression you want your landscape to give to others. Get inspired with creative hardscape designs and patterns.
Another variable to consider when picking materials are their environmental and eco-friendly properties. For example, certain types of pavers are capable of absorbing moisture from the atmosphere creating a cooler environment in hot weather.
Hardscape Features
No matter what type of property you have, there are no limits to what hardscaping can do in terms of transforming your landscape. Whether you're a commercial property, an HOA or COA, or a residential homeowner, consider the following possibilities and how they can enhance your property:
Sidewalks / Stairs – Whether concrete or flagstones, curvaceous or angular, pathways and sidewalks set the pace for how people move around on your property. Pathways throughout the neighborhood make the space more enjoyable for residents. Potential buyers will enjoy the idea of being able to jog or bike in a space where they feel safe. Sidewalks –especially those created with luxurious materials—help to enhance property values.
Patios / benches – Patios and benches are designated gathering spots where homeowners, guests, employees, or clients can get together and enjoy the outdoors scenery as well as the company of others. Stylish mosaics or unique designs are ideal features of patio landscaping.
Retaining walls / terraces / planters – Stone or brick walls capped with planters that are filled with trees or perennials create boundaries and help to set the style. Walls and planters are great attractive yet subtle ways to signal to guests to stay off the lawn or out of water features.
Outdoor kitchens / fire pits / fire places – Don't fall into the trap of thinking that outdoor kitchens are exclusive to private residences. In fact, these are gaining traction in office parks for employees to use or for public events. They are also great in HOA common areas and in condominium or hotel gathering spaces. Not only that, but depending on the kind of space that you have, a stylish, elegantly-hardscaped outdoor living area with kitchen accommodations or with seating and a fire pit can be rented out for special events and occasions.
Outdoor dining – Enhance common areas by having stone picnic tables or by putting dining benches around lipped fire pits for users to put dishes and plates.
The take-home is that stylish hardscapes completely enhance the functionality of your space and can increase your property value. What's more, hardscapes endure. The tone of your hardscape can be softened or enhanced with soft landscape features, depending on the season or your preference. Don't limit yourself in terms of what you can do to for your property with hardscapes.
Call ScapeWorx Today at 484-684-5500 or Click Here to Get Your Free Estimate!