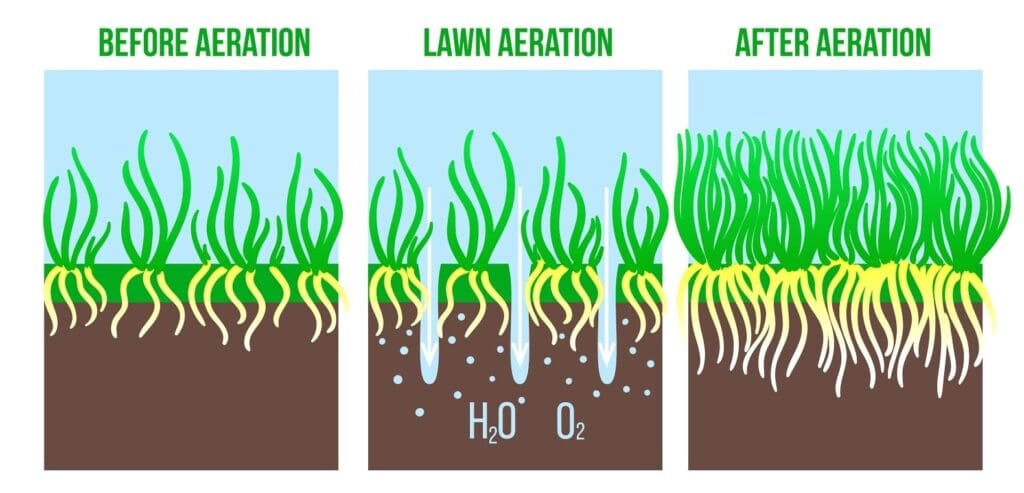 Your lawn is one of the most important aspects of your home's curb appeal and the impression left on neighbors and people who are passing by. Don't let an unhealthy lawn turn your property into your neighborhood's only eyesore; make your grass the envy of your neighborhood with help from ScapeWorx lawn care extraordinaires. One of the best ways to keep your lawn healthy is with core aeration, one of the many landscaping services we offer at affordable rates. 
Grass, like virtually all other living organisms, cannot flourish without sufficient access to oxygen, water, and vital nutrients. During core aeration, our team utilizes a machine called a lawn aerator, making the soil less compacted by removing layers of thatch and "cores" of soil. This allows the soil to become fluffier and more conducive to supplying the lawn with the oxygen, water, and nutrients its health demands. If your yard is showing signs of dehydration, or your fertilizer doesn't seem to have the same impact it used to, it may be because compacted soil is choking your lawn. Core aeration will allow your grass to breathe and flourish once again. 
What else can core aeration do for my lawn? 
After your lawn becomes more breathable, it will continue to thrive. Following the aeration process, it will be easier for the lawn to receive water, and grass roots will grow stronger. Additionally, your grass will be more tolerant to the stresses of heat and drought, and will also be less susceptible to moss growth. 
Within 8-10 weeks of core aeration, your grass will have developed new roots that are deeper than the old ones. The lawn itself will have a higher density, while the soil will be more fluffy.
If you have a cool-season grass, such as Kentucky bluegrass, fine fescue, tall fescue, or perennial ryegrass, the best time of year for soil aeration is in the early fall. So before you miss your chance and have to wait until next year for the best results for your yard, let this year be the year you revitalize your lawn with help from ScapeWorx. 
We provide free estimates and consultations on all of our services, and offer much more than just lawn core aeration. For example, if you need help with a rock landscape design for your home in Chester County, PA, we can help. Or, if you need a new installation of sod in the Chadds Ford, PA area, we can take care of that quickly and affordably. 
To find out more information, contact ScapeWorx to get in touch with our landscaping experts and to schedule your free estimate today!