Watering Grass Seed by ScapeWorx Landscaping & Design, Inc.
in West Chester, Glen Mills, Garnet Valley, Media, Delaware County, and Chester County PA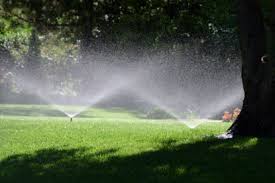 Watering your new grass seed is extremely important! You want to make sure the new seed and soil stays stays moist. This is best for the germination of the seed. You should water it twice a day depending on temperatures. If it's hot out you might need to step it up to 3 times a day. 
A sprinkler system will make your life easier but if you use an oscillating or rotating water sprinkler with a hose be sure to move the hose on a daily basis so that the seed / grass under the hose survives. Also make sure you are getting full even coverage when watering your new seed.
Mowing Your New Grass
You should also wait to mow your new grass until it is established and the ground is dry. Obviously, you wouldn't want to mow it if the soil and grass is wet. That could cause lawn rutting. Your first mowing could be anywhere from 3 to 8 weeks depending on the type of grass seed that is applied. Use a smaller mower if possible for the first few mowing and remember to mow a different direction every time.

Once Your Grass is Established
Once your grass is established you can water it and mow it as usual. At this point the only thing you really have to do is maintain it. This is best done by fertilizing your lawn. Fertilization has many benefits. It keeps your lawn looking great and weed free if done correctly. We strongly recommend using a professional unless you have the time and patience. Every coule of years you should also aerate your lawn to keep it healthy and thriving.