Choose ScapeWorx Design & Maintenance for Complete Lawn and Landscape Care
A beautiful landscape looks even better with ongoing care and maintenance from professional landscaping services. At ScapeWorx Design & Maintenance, we provide comprehensive landscaping options, including lawn care, landscape maintenance, seasonal options, and complete design and installation projects. Our team of expert landscapers is committed to providing high-quality care based on our years of experience landscaping in the Wallingford, Pennsylvania, area. And once you have your ideal landscape, you shouldn't have to spend your weekends maintaining it. Enjoy an afternoon all the Smedley-Leiper Trail or play a round of golf at the Springhaven Club, knowing that your landscape is in expert hands.
Our landscape maintenance services are personalized to fit the needs of each property. Enjoy:
Bed edging that keep the edges of your lawn, walking paths, and garden beds crisp and well-trimmed
Comprehensive lawn care, including mowing services, lawn aeration and treatments, and ongoing weed control
Seasonal lawn care services such as preparing summer lawns with grass seeds, clearing away seasonal debris like leaves and blooms, and more
Pruning and trimming services for trees and shrubs to keep your landscape picture-perfect
Garden bed maintenance for clean, weed-free beds with well-shaped plants
It's all part of our signature "No Hassle, No Excuses, No Nonsense, You'll Love Our Work" Guarantee: you get comprehensive service during reliable appointments, and you never have to worry that your landscaping appointment will be rushed or incomplete. Our team shows up to work hard and do it right—we put our years of experience in the Philadelphia area to work and never take shortcuts. Expect expertise at every turn, including honest assessments of what your property needs, high-quality services at every appointment, and quick communication with knowledgeable answers. Even the signup process is easy—we'll call you back within 24 hours, no matter when you call, and we'll schedule a convenient on-site walkthrough to create a custom plan for your landscape. Reach out today to get started.
It's Easier Than Ever to Take Landscape Maintenance Off Your To-Do List
Transform your landscape from ordinary into extraordinary with professional landscaping services built to serve Glen Mills, Pennsylvania, and other Philadelphia suburbs. The ScapeWorx team excels at designing and installing custom landscapes that will boost your curb appeal and be a genuine joy to come home to. Ready to get started? Here's our no-hassle process where you tell us what you're looking for and we create a beautiful landscape that exceeds your expectations. We do the hard work so you can enjoy the transformation.
Our Customers Love Our "No Hassle, No Excuses, No Nonsense, You'll Love Our Work" Guarantee
See How Professional Landscape Services Can Elevate Your Wallingford, Pennsylvania, Property
Want to spruce up your landscaping? Visit our online portfolio to see how our design, installation, and maintenance services can transform your property. See how professional pruning, ongoing lawn treatments, and seasonal cleanup will make your landscape picture-perfect.
Enjoy Seasonal Cleanup, Landscape Refreshes, and More From ScapeWorx
Don't juggle multiple landscapers or take on tasks that your professional landscaping company should be handling for you. At ScapeWorx, we do it all so you can enjoy collaborating with expert designers to create your landscape and then sit back to watch the new design come to life around your home. Even better, once your landscape installation is complete, we're here with comprehensive maintenance options.
Proudly Serving Homes Around
Wallingford, Pennsylvania
The team of landscaping experts at ScapeWorx Landscape Design & Maintenance is committed to excellence. Glen Mills, Pennsylvania, residents get five-star, no-nonsense landscaping services they can rely on from start to finish. We provide fast, clear communication, friendly service, and honest work. If you live in one of our service areas, we'll take your property from ordinary to extraordinary, and we'll keep working until it meets our standards for excellence. We serve these suburbs in the Philadelphia, Pennsylvania area:
For landscaping design and installation:
Berwyn, Pennsylvania
Kennett Square, Pennsylvania
The Main Line
Thornton, Pennsylvania
For customized landscape maintenance services:
Media, Pennsylvania
Thornton, Pennsylvania

Berwyn, PA
Berwyn, PA
Chadds Ford, PA
Garnet Valley, PA
Gladwyne, PA
Gladwyne, PA
Glen Mills, PA
Kennett Square, PA
Kennett Square, PA
Lower Merion, PA
Lower Merion, PA
Media, PA
Media, PA
Newton Square, PA
Newton Square, PA
Thornton, PA
Thornton, PA
Wallingford, PA
Wallingford, PA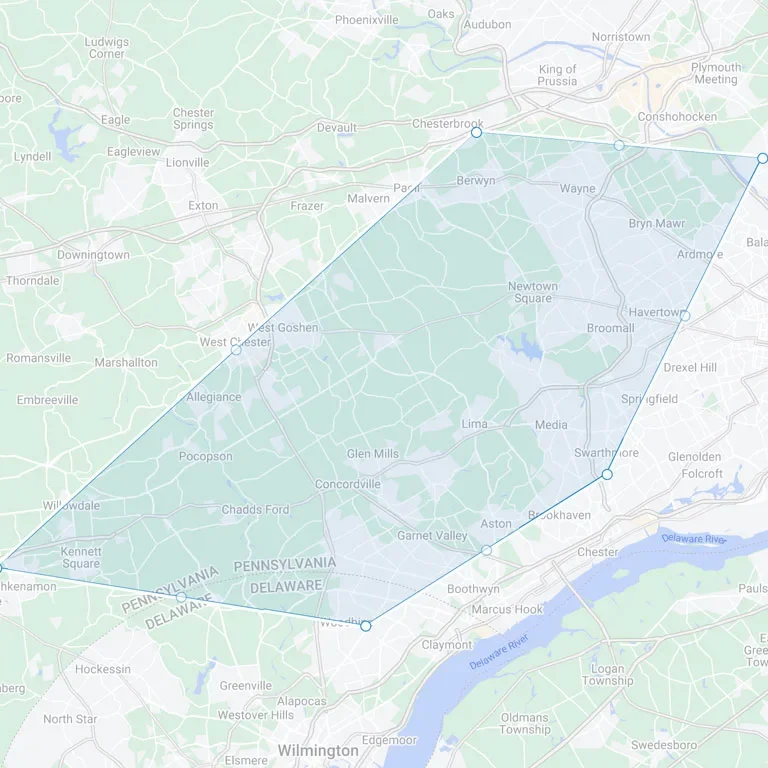 Landscape Maintenance Is Just a Click Away—
We Handle It All!
Ready to relax and enjoy your landscape without hours of mowing, pruning, and planting? Choose ScapeWorx for all the services you need to have an outdoor oasis you love. Fill out our easy online form to get started.