ScapeWorx Landscape Design & Maintenance: Your Trusted Local Authority in Upscale Landscaping
There's nothing like a landscape that perfectly reflects your outdoor style — especially when you have a professional, hardworking team that handles all of the landscaping installation and maintenance. Wallingford, Pennsylvania is a charming suburban community known for its picturesque streets and strong sense of community. When your home is just a short drive from the center of Philadelphia to the east and the Delaware border to the south, you can come home to a landscape that captures the natural beauty of both the Peach State and Pennsylvania's famed mountain laurels.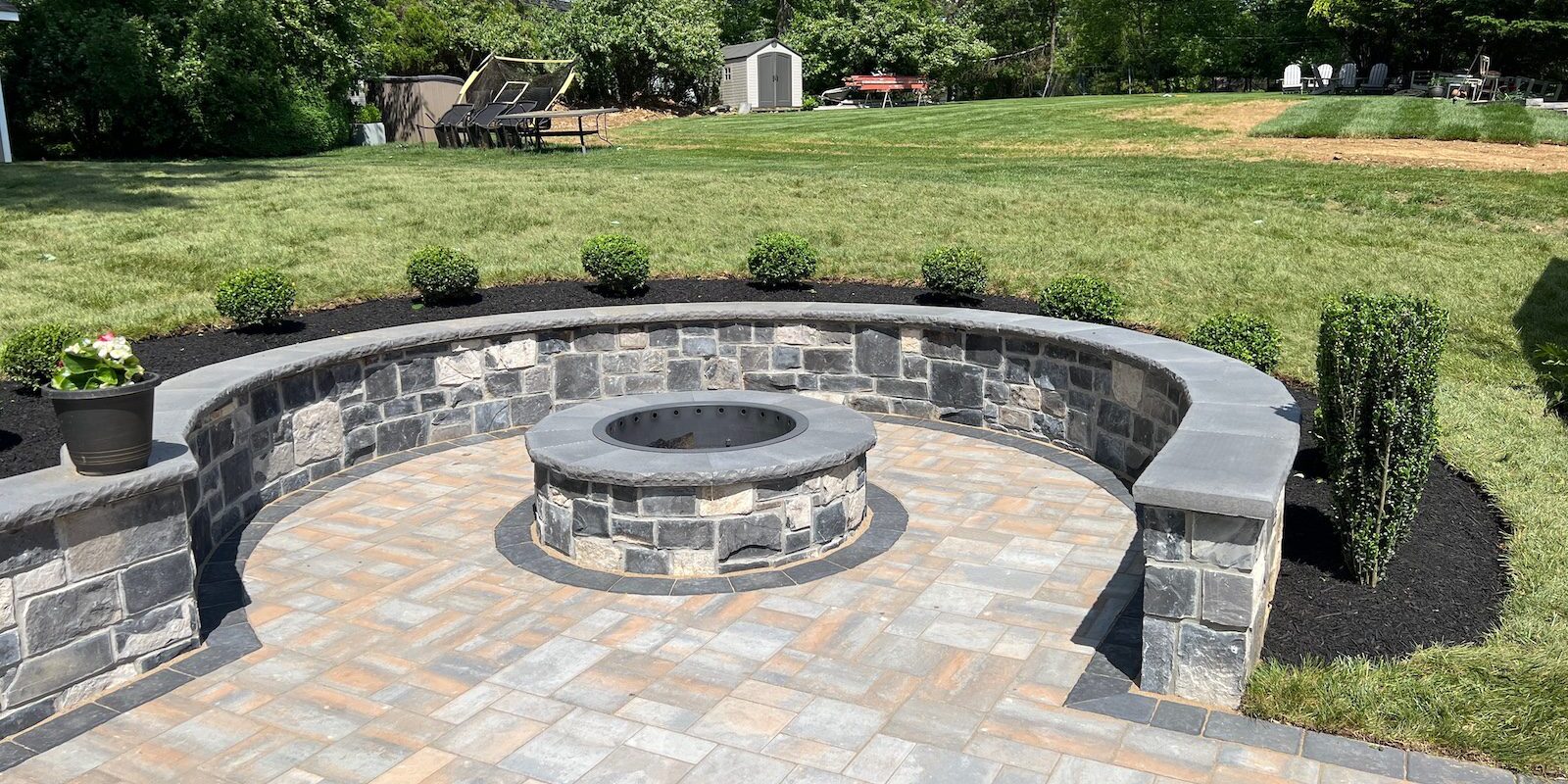 Enjoy a lawn crossed with cobblestone paths, artfully shaped trees that are illuminated by custom landscape lighting, and privacy hedges that line your home. If you prefer that outdoor lifestyle trend, extend your living space with an outdoor patio that has a fire pit to keep back the winter chill and make backyard gatherings more inviting. At ScapeWorx Landscape Design & Maintenance, we're here to make your dream landscape happen, down to the last detail.
Our team of landscape designers and installation experts can replace your home's existing landscape with an entirely new layout that better suits your style, with drainage systems that protect your property, retaining walls to lock the soil in place, and fresh sod and turf installation. We'll layer in professional landscape lighting, seating walls and walkways, and mulch beds that give your landscape extra character and depth. Then your new landscape can come to life with fresh seasonal plantings that offer bursts of color.
All of our services are customized to meet the unique growing conditions, soil needs, and styles of our local communities. Homeowners in the Wallingford, Pennsylvania, area have access to these landscaping services:
Landscape Design: Get a custom-created landscape design plan with two rounds of revisions and details down to the centimeter.
Landscape Installation: We do it all, from landscape lighting and retaining or seating walls to mulch and plantings.
Outdoor Living Construction: Get a backyard retreat with a deck, patio, and fire pit.
Landscape Maintenance: Enjoy a freshly maintained landscape without lifting a finger. Get lawn care, seasonal cleanup, pruning, and more, all customized to your unique landscape.
Drainage Solutions: Build your landscape to protect your home with erosion control, grading, and French drains that blend into the layout.
Sod & Turf: Keep your lawn fresh with complete sod and turf services, including compost treatments.
Commercial Services: Business owners can also get this five-star treatment for their commercial properties in Wallingford, Pennsylvania.
You'll love the service just as much as you'll love the landscape. With our signature "No Hassle, No Excuses, No Nonsense, You'll Love Our Work Guarantee," you'll know that every inch of your landscape was built to last — our hardscaping, lighting, and optional seed warranties back that up for extra peace of mind. You can also rely on our team to give you honest answers to all of your questions and provide timely updates every step of the way. We show up and work during every part of your landscape. Connect with us today, and we'll get back to you within 48 hours to schedule your on-site Dream Meeting.
Our All-Inclusive Landscaping Services Ensure You Won't Need To Coordinate With Multiple Companies
Don't juggle multiple landscapers or take on tasks that your professional landscaping company should be handling for you. At ScapeWorx, we do it all so you can enjoy collaborating with expert designers to create your landscape and then sit back to watch the new design come to life around your home. Even better, once your landscape installation is complete, we're here with comprehensive maintenance options.
Homeowners Trust Us to Transform
and Care for Their Landscapes
Our Landscape Design Process Places
Your Vision For Your Landscape Front And Center
Transform your landscape from ordinary into extraordinary with professional landscaping services built to serve Wallingford, Pennsylvania, and other Philadelphia suburbs. The ScapeWorx team excels at designing and installing custom landscapes that will boost your curb appeal and be a genuine joy to come home to. Ready to get started? Here's our no-hassle process where you tell us what you're looking for and we create a beautiful landscape that exceeds your expectations. We do the hard work so you can enjoy the transformation.
See What Landscape Design and Maintenance Services We Offer
in Your Neighborhood in the Wallingford, PA, Area
The team of landscaping experts at ScapeWorx Landscape Design & Maintenance is committed to excellence. Glen Mills, Pennsylvania, residents get five-star, no-nonsense landscaping services they can rely on from start to finish. We provide fast, clear communication, friendly service, and honest work. If you live in one of our service areas, we'll take your property from ordinary to extraordinary, and we'll keep working until it meets our standards for excellence. We serve these suburbs in the Philadelphia, Pennsylvania area:
For landscaping design and installation:
Berwyn, Pennsylvania
Kennett Square, Pennsylvania
The Main Line
Thornton, Pennsylvania
For customized landscape maintenance services:
Media, Pennsylvania
Thornton, Pennsylvania

Berwyn, PA
Berwyn, PA
Chadds Ford, PA
Garnet Valley, PA
Gladwyne, PA
Gladwyne, PA
Glen Mills, PA
Kennett Square, PA
Kennett Square, PA
Lower Merion, PA
Lower Merion, PA
Media, PA
Media, PA
Newton Square, PA
Newton Square, PA
Thornton, PA
Thornton, PA
Wallingford, PA
Wallingford, PA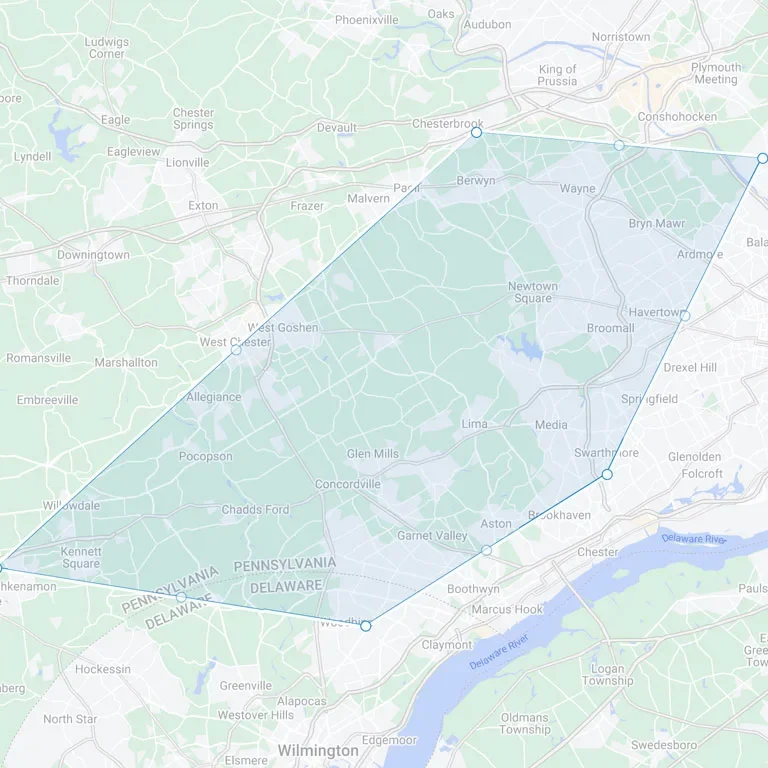 Ready for a Luxurious New Landscape?
Schedule Your Dream Meeting to Get Started
Looking for landscapers who are ready to get to work? Fill out our online form to let us know what you're looking for. We'll schedule a Dream Meeting that fits your schedule so we can design the perfect landscape for your home.