The Team at ScapeWorx Landscape Design & Maintenance Is Standing By to Break Ground on Your New Landscape
Situated just west of Philadelphia, Newtown Square, Pennsylvania, is a tranquil suburban community renowned for its relaxed atmosphere. This charming area showcases homes nestled amidst the idyllic countryside, a bustling downtown, and a profound appreciation for its historical heritage. This idyllic community is home to luxurious landscapes, sprawling outdoor living spaces, and beautiful lawns that stay bountiful and green throughout the growing season. Create your dream landscape on your Newtown Square, Pennsylvania, property to create an elegant green space that encapsulates all of your favorite parts of living in the western suburbs of Philadelphia. Let your signature style shine through with ornamental trees that provide shade and pops of color throughout your yard, vibrant sod or turf that creates a rich carpet for your front lawn, and seasonal plantings full of charm. Make your ideal landscape even more entrancing with custom landscape lighting that showcases your favorite outdoor features, seating walls and retaining walls for layers of depth, and irrigation that keeps your landscape healthy and green. You can come home to a charming cobblestone driveway, a luxurious outdoor living space for enjoying the outdoors, and any other features that make up your dream landscape. At ScapeWorx Landscape Design & Maintenance, we strive to bring your vision to life with comprehensive landscape design, build, and maintenance services so you will love your landscapes for years to come.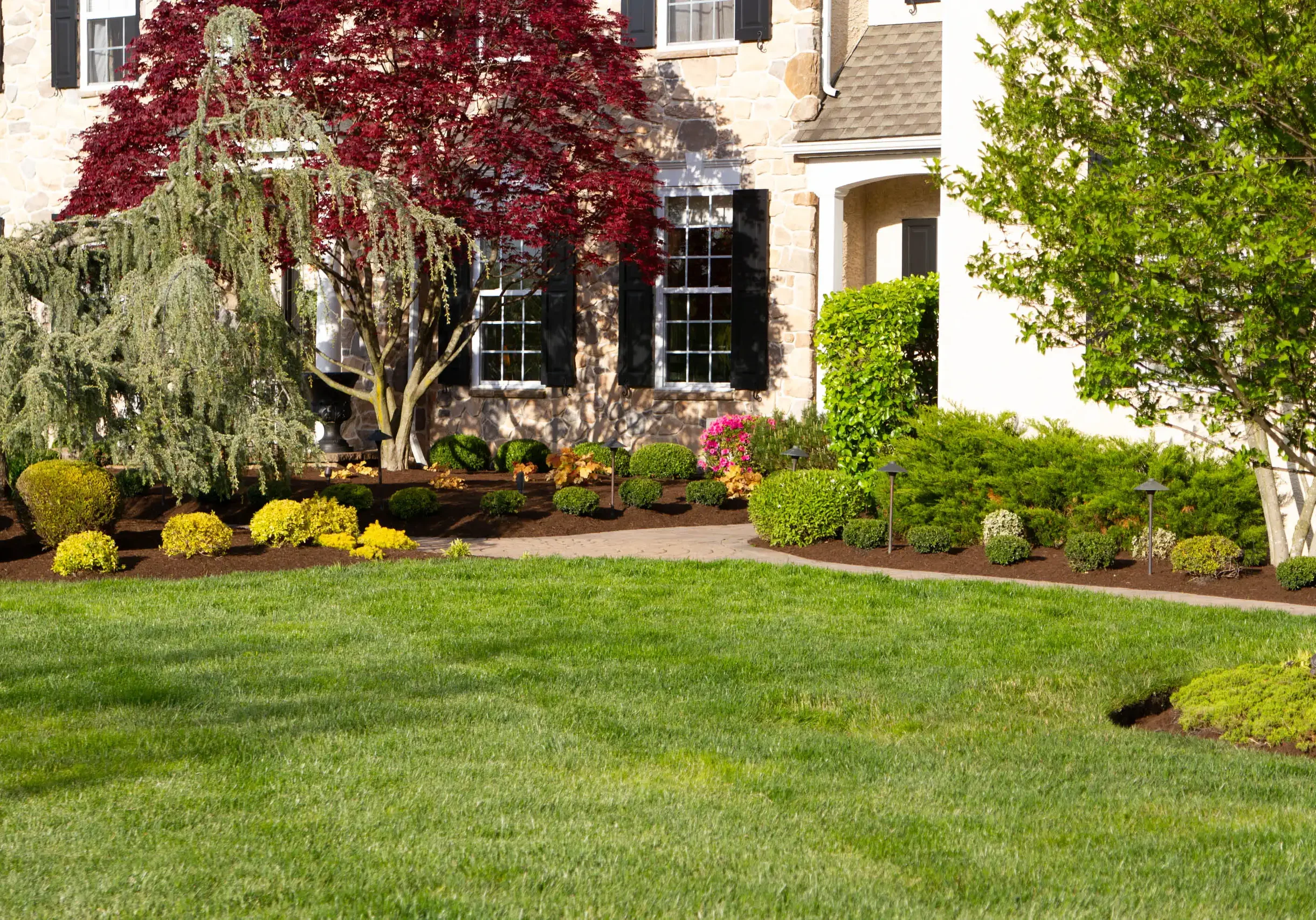 Our "No Hassle, No Excuses, No Nonsense, You'll Love Our Work Guarantee" is built for your peace of mind throughout the entire project. During your on-site property assessment and dream design meeting, our designers will provide honest, upfront answers about how to transform your landscape from ordinary to extraordinary. Next, you'll get a completely customized landscape design plan that incorporates the unique needs of your landscape and your favorite landscape elements. From there, we'll transform your dream landscape into a reality with a complete commitment to hard work, high-quality materials, and a reliable work ethic from start to finish. Our team strives to be the best, and you'll see this through our attention to detail with every planting, paver stone, and communication.
Our landscaping services in the Newtown Square, Pennsylvania, area include:
Residential landscape design
Complete landscape installation, including plantings and hardscaping elements
Custom outdoor living space construction
Ongoing landscape maintenance, including lawn care, seasonal cleanup, tree and shrub pruning, lawn mowing, and more
Drainage solutions that protect your landscape throughout the seasons
Sod and turf installation and management
Driveway installation for picture-perfect curb appeal
We know what we're doing, and we've been creating luxurious custom landscapes in the area since 2009. Our team will exceed your expectations with hard work, consistent communication, and high-quality design every step of the way. Once your landscape transformation is complete, you also get peace of mind from our long-lasting warranties.
We'll Create the Landscape of Your Dreams and Keep It Pristine With Personalized Maintenance Services and More
Don't juggle multiple landscapers or take on tasks that your professional landscaping company should be handling for you. At ScapeWorx, we do it all so you can enjoy collaborating with expert designers to create your landscape and then sit back to watch the new design come to life around your home. Even better, once your landscape installation is complete, we're here with comprehensive maintenance options.
Nervous About a New Landscaping Project?
Read What Our Past and Current Clients Say About Our Dedication to High-Quality Services
Kick Off Your Beautiful New Landscape With a Dream Meeting
Transform your landscape from ordinary into extraordinary with professional landscaping services built to serve Glen Mills, Pennsylvania, and other Philadelphia suburbs. The ScapeWorx team excels at designing and installing custom landscapes that will boost your curb appeal and be a genuine joy to come home to. Ready to get started? Here's our no-hassle process where you tell us what you're looking for and we create a beautiful landscape that exceeds your expectations. We do the hard work so you can enjoy the transformation.
See What Landscape Design and Maintenance Services We Offer
in Your Neighborhood in the Newtown Square, PA, Area
The team of landscaping experts at ScapeWorx Landscape Design & Maintenance is committed to excellence. Glen Mills, Pennsylvania, residents get five-star, no-nonsense landscaping services they can rely on from start to finish. We provide fast, clear communication, friendly service, and honest work. If you live in one of our service areas, we'll take your property from ordinary to extraordinary, and we'll keep working until it meets our standards for excellence. We serve these suburbs in the Philadelphia, Pennsylvania area:
For landscaping design and installation:
Berwyn, Pennsylvania
Kennett Square, Pennsylvania
The Main Line
Thornton, Pennsylvania
Wallingford, Pennsylvania
For customized landscape maintenance services:
Media, Pennsylvania
Thornton, Pennsylvania
Wallingford, Pennsylvania

Berwyn, PA
Berwyn, PA
Chadds Ford, PA
Garnet Valley, PA
Gladwyne, PA
Gladwyne, PA
Glen Mills, PA
Kennett Square, PA
Kennett Square, PA
Lower Merion, PA
Lower Merion, PA
Media, PA
Media, PA
Newton Square, PA
Newton Square, PA
Thornton, PA
Thornton, PA
Wallingford, PA
Wallingford, PA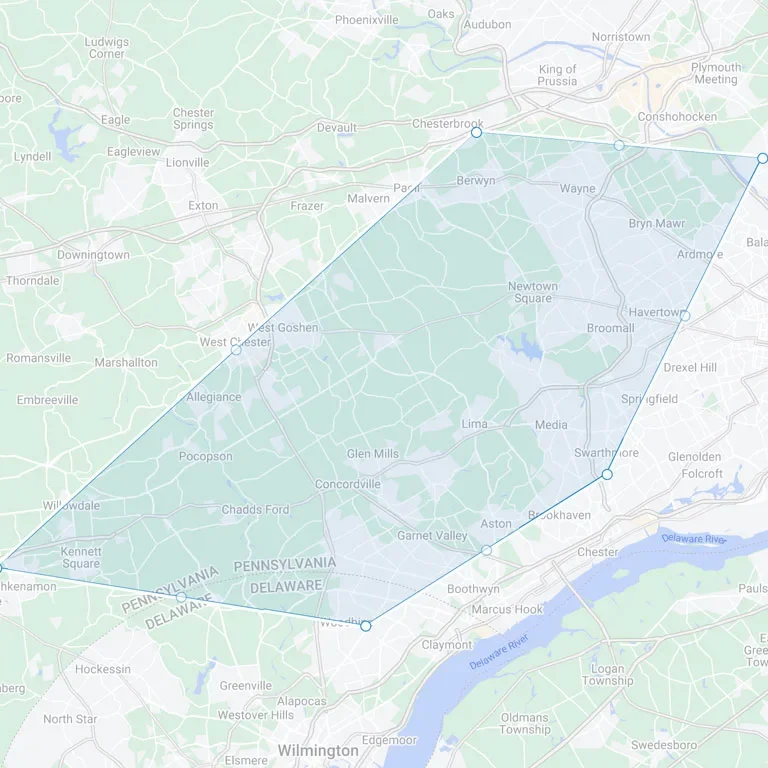 Have a Vision for Your Next Landscape?
Fill Out Our Online Form to Let Us Know What You're Looking For!
We make it simple to transform your landscape into your dream outdoor space. Fill out our online form to let us know what you're looking for, and we'll call you within 24 hours to learn more and to schedule your Dream Meeting at your convenience.