Pruning, Seasonal Cleanups, and Plant Care From the Experts at ScapeWorx Landscape Design & Maintenance
Enjoy all the beauty your landscape has to offer this season in Media, Pennsylvania. Enjoy autumnal leaves without having them stack up on your front lawn, and come home to beautifully trimmed and pruned shrubs that are ready for a dormant period. We can also shape your evergreens for a neat and tidy winter garden! Seasonal landscape maintenance from ScapeWorx Landscape Design & Maintenance gives your property immediate curb appeal and protects your landscape so it has a healthy start in the coming year. At ScapeWorx, we provide each of our clients with:
Our signature "No Hassle, No Excuses, No Nonsense, You'll Love Our Work" guarantee: Come home to a beautifully maintained landscape with the right services and expert care for your unique property. If you don't like something, we'll turn right around to make it right.
Upfront and honest work that's punctual every time: Get a team of landscapers that always arrive on time and work hard to ensure your landscape gets the best possible care with every appointment.
Clear communication: Always know when your service appointments are and where we are on completing larger landscaping projects. Get peace of mind through our easy appointment processes, transparent communication and updates, and calls back within 24 hours.
A company that always strives to be the best: We provide consistent expert care founded on our love for plants and localized knowledge about what makes plants and landscapes thrive in the Philadelphia area.
Reach out today to schedule an on-site walkthrough, and an expert landscaper will assess your property to create a customized service program.
It's Easier Than Ever to Have Personalized Landscape Maintenance All Season Long
Transform your landscape from ordinary into extraordinary with professional landscaping services built to serve Glen Mills, Pennsylvania, and other Philadelphia suburbs. The ScapeWorx team excels at designing and installing custom landscapes that will boost your curb appeal and be a genuine joy to come home to. Ready to get started? Here's our no-hassle process where you tell us what you're looking for and we create a beautiful landscape that exceeds your expectations. We do the hard work so you can enjoy the transformation.
Our Customers Trust Us to Make Their Properties Beautiful Season After Season
Give Your Property a Picture-Perfect Autumnal Glow
Professional landscaping takes any landscape from ordinary to extraordinary. Visit our online gallery to see how expert care and maintenance can make your home the envy of the neighborhood, with clear lawns that never have big piles of leaves, neat and tidy hedges, and footpaths that are swept clean after every appointment.
Transform Your Landscape With Professional Landscape Installation and More From ScapeWorx
Don't juggle multiple landscapers or take on tasks that your professional landscaping company should be handling for you. At ScapeWorx, we do it all so you can enjoy collaborating with expert designers to create your landscape and then sit back to watch the new design come to life around your home. Even better, once your landscape installation is complete, we're here with comprehensive maintenance options.
Serving Homeowners in Media, Pennsylvania,
and the Greater Philadelphia Area
The team of landscaping experts at ScapeWorx Landscape Design & Maintenance is committed to excellence. Glen Mills, Pennsylvania, residents get five-star, no-nonsense landscaping services they can rely on from start to finish. We provide fast, clear communication, friendly service, and honest work. If you live in one of our service areas, we'll take your property from ordinary to extraordinary, and we'll keep working until it meets our standards for excellence. We serve these suburbs in the Philadelphia, Pennsylvania area:
For landscaping design and installation:
Berwyn, Pennsylvania
Kennett Square, Pennsylvania
The Main Line
Thornton, Pennsylvania
Wallingford, Pennsylvania
For customized landscape maintenance services:
Media, Pennsylvania
Thornton, Pennsylvania
Wallingford, Pennsylvania

Berwyn, PA
Berwyn, PA
Chadds Ford, PA
Garnet Valley, PA
Gladwyne, PA
Gladwyne, PA
Glen Mills, PA
Kennett Square, PA
Kennett Square, PA
Lower Merion, PA
Lower Merion, PA
Media, PA
Media, PA
Newton Square, PA
Newton Square, PA
Thornton, PA
Thornton, PA
Wallingford, PA
Wallingford, PA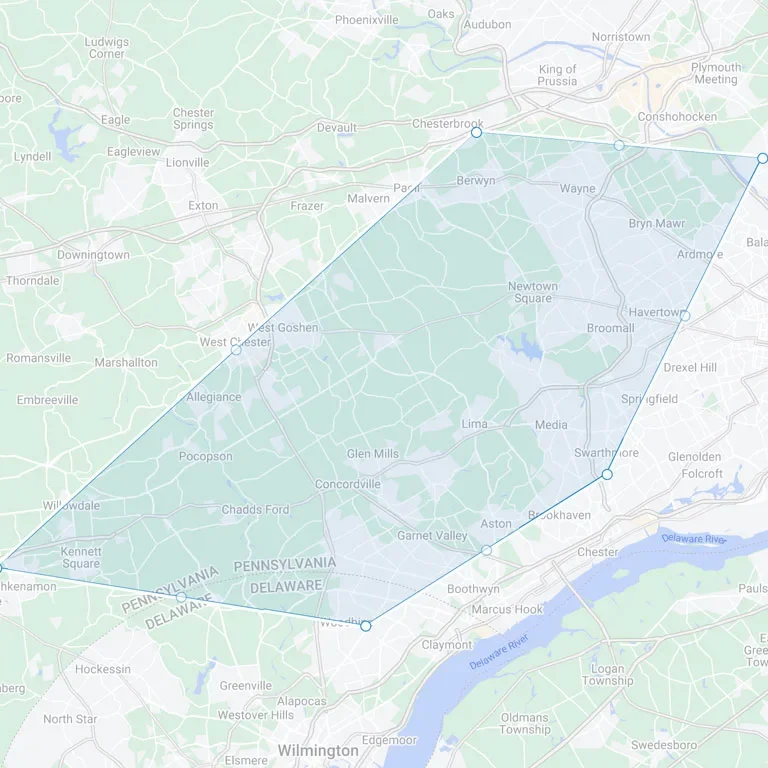 Enjoy Beautiful Landscaping That Stays Neat and Tidy All Year Long
With ScapeWorx—Contact Us Today
Keep your landscape gorgeous and healthy as the seasons change. ScapeWorx provides comprehensive seasonal cleanup, trimming, and proactive maintenance in the fall and spring, so you know your landscape is in good hands. Fill out our easy online form today to let us know what you want for your landscape, and we'll do the rest.