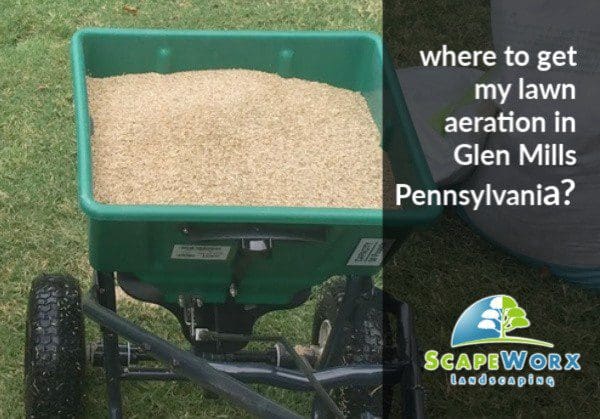 Where to Get My Lawn Aeration in Glen Mills Pennsylvania?
Where to get your lawn aeration in Glen Mills Pennsylvania from ScapeWorx Landscaping. We start with a 100% Free Estimate and then if you agree we come out to get the job done ASAP! From our experience to our work quality, no one does it better to ScapeWorx Landscaping.
Why Does My Home's Lawn Need Aeration? 
With the bad summer heats and cold Glenn Mills winters it can cause tension in your lawn and even cause root growth to cease! By aerating and seeding you will be allowing you soil to breath and the oxygen to get into the soil.
When is The Best Time to Aerate My Lawn? 
A fall aeration and seeding is always the best as you will see results that produce a 70% – 80% germination rating. This means it will be the best possible time to get your lawn aeration and seeding completed. With the cool nights and warm days, it's 100% perfect for the process!
How Does an Aerator Work to Provide Benefit to My Glen Mills Lawn?
An aerator removes small plugs from the turf severing root endings and removing soil. Core aerators have a minimum soil penetration of 2 ½ – 3 inches and will be able to remove plugs anywhere from ¼ to ¾ inches in diameter. Our team at ScapeWorx Landscaping work hard to ensure we get 3-inch plugs at all time providing maximum benefit.
What Are the Benefits of Having an Aeration?
When you have a aeration it allows your soil to breath and your lawn to be able to retain oxygen and moisture.  It will also allow you to reduce weeds, disease and bare areas from your Glen Mills lawn!
Also Check Us Out on Facebook and get your $50.00 discount coupon today!