ScapeWorx Landscape Design & Maintenance Is a Values-Based Landscaping Company That Specializes in Excellence
Beautiful landscaping is in constant demand in Glen Mills, Pennsylvania, as homeowners and businesses customize their properties to enhance the curb appeal and enjoy their unique landscaping styles. At ScapeWorx Landscape Design & Maintenance, we serve local clients with comprehensive landscaping services, including custom landscape design, comprehensive landscape installation and outdoor living space construction, and ongoing landscape maintenance. We're committed to providing excellent services to each of our clients — we're equally committed to creating a great place to work for each of our employees, with plenty of opportunities to learn more skills, a pay for performance environment that lets you earn more money, and a commitment to treating everyone on the team like equals.
Apply to our company today to join our team of expert landscapers, landscape designers, and outdoor construction specialists. You can browse our currently open landscaping jobs in Glen Mills, Pennsylvania, to learn more about the details of each role, the benefits and pay we offer, and how you can use each role to further your career by developing specialized skills. We're looking for professionals who are committed to working hard and striving for excellence every day, who respect clients and colleagues, and who are invested in creating beautiful landscapes the right way.
Enjoy Coming to Work Every Day
With a Friendly, Respectful Team of Experts
At ScapeWorx, we work hard to create a company culture based on our core values so we foster a community of respected peers:
Thorough

We are extremely meticulous
and pay great attention to detail.

Reliable

We are dependable, we show up,
we work and do it right.

Upfront

We are transparent, honest, and set real expectations for our clients.

Skilled

We possess and demonstrate exceptional expertise in our quality and craftsmanship.

Transformative

We create a significant, meaningful, and lasting change to our clients outdoor spaces.
Our commitment to a workplace where we are all equal
and ready to work hard is a signature element of working with ScapeWorx
At our company, all employees benefit.
We Treat Each Other Like Peers and Equals Who Are Ready to Work Hard
Hard work, expertise, and respect are the cornerstone of our great company culture. Enjoy a family-like atmosphere, with company-paid events for employees and families, a commitment to safety, and an investment in team-building.
Opportunities
to Develop
Your Expertise
For the past 13 years of our company's history, we've regularly invested in our team's growth through training, investing in cutting-edge technology for safety and on-the-job convenience, and prioritizing internal promotions and career development.
Cutting-Edge Tools
Technology
and Training
Work with the best to create the best landscapes. Our company provides top-of-the-line tools, including software and equipment. We're constantly innovating and streamlining our processes for more efficiency and to create a steady supply of business.
Ready to Join the Team? Explore Our Open Landscaping Jobs to Find Your Fit
Our "No Hassle, No Excuses, No Nonsense, You'll Love Our Work Guarantee" is the foundation of how we serve clients, so we're constantly looking for top talent to join our team.
Look through our open positions to find one that aligns with your expertise and experience.
Enjoy Bonuses, Health Benefits, and Pay for Performance
ScapeWorx is committed to rewarding hardworking employees. Full-time members of our leadership & management teams and full-time  field/ground teams receive health insurance with 75% paid premiums. Employees also get 3% matches on their retirement accounts, paid holidays, and invitations to company-paid events for employees and their families.
Leadership and management employees are eligible for paid vacations after 90 days of employment and have access to cloud-based systems and remote work opportunities.
Field and ground team members are eligible for a $1,500 sign-on bonus after six months, pay for performance arrangements so you can earn as much as possible, bonuses and commissions, and surprise perks. Every employee also gets their own tools, continual safety and career training, and free work gloves. Crew leaders and foremen receive company-paid Pro Max iPhones.
Stay Local! We Create and Maintain Beautiful Landscapes
in Glen Mills, Pennsylvania, and Surrounding Communities
The team of landscaping experts at ScapeWorx Landscape Design & Maintenance is committed to excellence. Glen Mills, Pennsylvania, residents get five-star, no-nonsense landscaping services they can rely on from start to finish. We provide fast, clear communication, friendly service, and honest work. If you live in one of our service areas, we'll take your property from ordinary to extraordinary, and we'll keep working until it meets our standards for excellence. We serve these suburbs in the Philadelphia, Pennsylvania area:
For landscaping design and installation:
Berwyn, Pennsylvania
Gladwyne, Pennsylvania
Kennett Square, Pennsylvania
Lower Merion, Pennsylvania
Media, Pennsylvania
Newton Square, Pennsylvania
The Main Line
Thornton, Pennsylvania
Wallingford, Pennsylvania
For customized landscape maintenance services:
Media, Pennsylvania
Thornton, Pennsylvania
Wallingford, Pennsylvania

Berwyn, PA
Berwyn, PA
Chadds Ford, PA
Garnet Valley, PA
Gladwyne, PA
Gladwyne, PA
Glen Mills, PA
Kennett Square, PA
Kennett Square, PA
Lower Merion, PA
Lower Merion, PA
Media, PA
Media, PA
Newton Square, PA
Newton Square, PA
Thornton, PA
Thornton, PA
Wallingford, PA
Wallingford, PA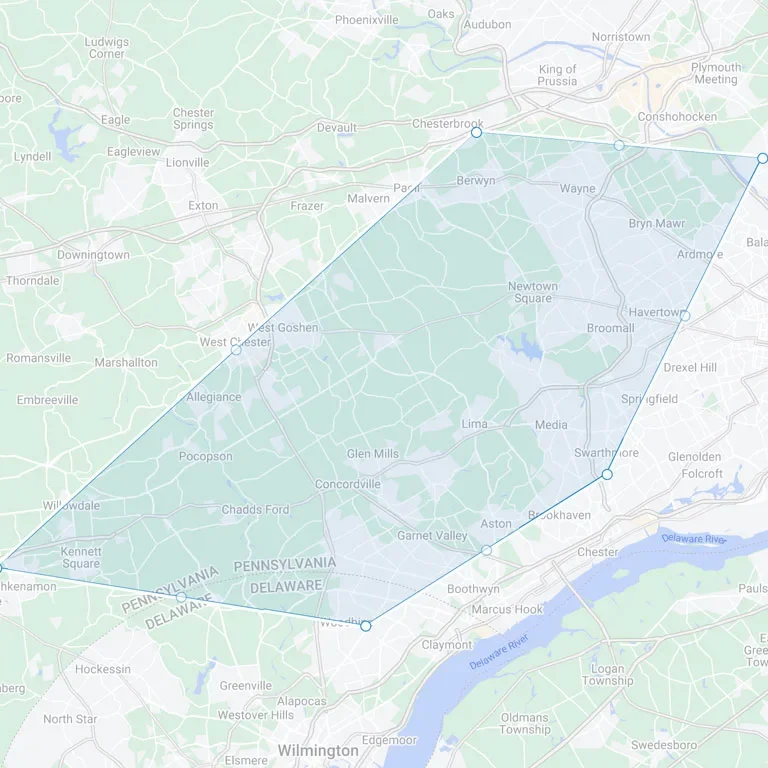 Find a Job You Love and a Team You Trust
With ScapeWorx Landscape Design & Maintenance
Ready to get to work? Browse our open landscaping jobs in Glen Mills, Pennsylvania, and apply today!