ScapeWorx Landscape Design & Maintenance Will Create a Beautiful Outdoor Oasis With Premium Features and an Elegant Design
Relax outdoors and entertain in style with a custom-crafted outdoor living space for your Glen Mills, Pennsylvania, home. Enjoy a beautiful paver patio that complements your home's architectural style with rich patterns and colors. Extend the living space of your home with a long-lasting deck that is perfect for hosting a backyard dinner or enjoying a beautiful sunset. Well-crafted outdoor living spaces are elegant and comfortable for gatherings during every season, with covered decks or pergolas to provide shade and fire pits for cozy warmth. Whether you'd love an outdoor living oasis to complete your backyard kitchen or you want a comfortable space to sit back and cheer on games in the backyard, the construction experts at ScapeWorx Landscape Design & Maintenance are here to bring your vision to life, with no hassles or complications. Our team excels at creating custom landscapes and outdoor spaces, and our simple process makes it easier than ever to come home to picturesque outdoor relaxation that you'll love. Contact us today to learn more about our No Hassle, No Excuses, No Nonsense, You'll Love Our Work Guarantee and to schedule your on-site visit for an initial site assessment.
Creating Your Custom Outdoor Retreat Has Never Been Easier With Our Simple, No-Hassle Process
Transform your landscape from ordinary into extraordinary with professional landscaping services built to serve Glen Mills, Pennsylvania, and other Philadelphia suburbs. The ScapeWorx team excels at designing and installing custom landscapes that will boost your curb appeal and be a genuine joy to come home to. Ready to get started? Here's our no-hassle process where you tell us what you're looking for and we create a beautiful landscape that exceeds your expectations. We do the hard work so you can enjoy the transformation.
Homeowners Across Glen Mills, Pennsylvania, Love Relaxing and Entertaining in Their Outdoor Living Space
Find Inspiration — Explore Our Online Gallery to See Popular Layouts and Features in Your Neighborhood
Looking for a beautiful layout, material ideas, or inspiration for what features to include in your home's custom outdoor living space? Browse our portfolio of projects to see what's popular in your neighborhood and what you'd love to see in your own backyard.
Enhance Your Home's Curb Appeal With Ongoing Maintenance and More From the Local Experts at ScapeWorx
Don't juggle multiple landscapers or take on tasks that your professional landscaping company should be handling for you. At ScapeWorx, we do it all so you can enjoy collaborating with expert designers to create your landscape and then sit back to watch the new design come to life around your home. Even better, once your landscape installation is complete, we're here with comprehensive maintenance options.
Proudly Serving Glen Mills, Pennsylvania, for 12 Years
The team of landscaping experts at ScapeWorx Landscape Design & Maintenance is committed to excellence. Glen Mills, Pennsylvania, residents get five-star, no-nonsense landscaping services they can rely on from start to finish. We provide fast, clear communication, friendly service, and honest work. If you live in one of our service areas, we'll take your property from ordinary to extraordinary, and we'll keep working until it meets our standards for excellence. We serve these suburbs in the Philadelphia, Pennsylvania area:
For landscaping design and installation:
Berwyn, Pennsylvania
Kennett Square, Pennsylvania
The Main Line
Thornton, Pennsylvania
For customized landscape maintenance services:
Media, Pennsylvania
Thornton, Pennsylvania

Berwyn, PA
Berwyn, PA
Chadds Ford, PA
Garnet Valley, PA
Gladwyne, PA
Gladwyne, PA
Glen Mills, PA
Kennett Square, PA
Kennett Square, PA
Lower Merion, PA
Lower Merion, PA
Media, PA
Media, PA
Newton Square, PA
Newton Square, PA
Thornton, PA
Thornton, PA
Wallingford, PA
Wallingford, PA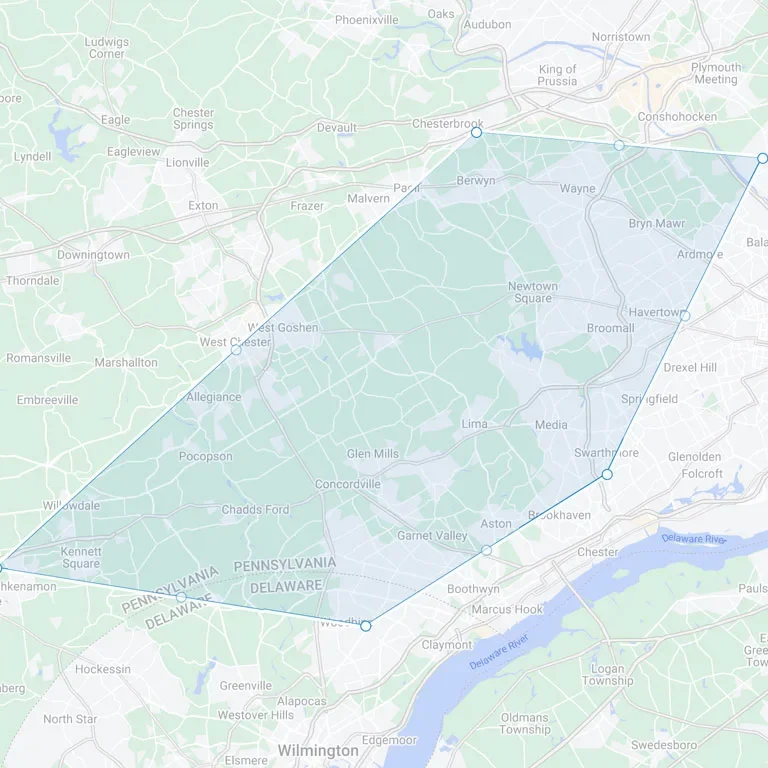 Contact Us Today to Start Designing Your Dream
Outdoor Living Space in Glen Mills, Pennsylvania
Take the first step toward a luxurious outdoor oasis with premium materials, rich features, and an elegant design. Fill out our online form to let us know what you're looking for, and we'll call you back within 24 hours.