Custom Walkway, Wall, and Landscape Feature Lighting Designed and Installed by ScapeWorx Landscape Design & Maintenance
Beautiful lighting makes all the difference to the aesthetic of your Glen Mills, Pennsylvania landscape. Come home to beautifully arranged lights that wash the walls of your home in a pleasant glow, illuminate your front path and steps, and highlight the trees and hedges dotting your front lawn. You can spend the summer evenings in your charmingly lit outdoor living space or drive up to a picture-perfect, well-lit home on short winter afternoons. At ScapeWorx Landscape Design & Maintenance, we offer comprehensive landscaping design and installation services, including adding layers of accent lighting, general lighting, and smart lighting systems to your landscape.
Our team of educated landscaping experts is committed to providing excellent, detailed work. Enjoy lights that follow your front path and illuminate every step and a combination of different lighting features to make your garden beds even more spectacular as the sun sets. We always strive to be the best so your landscape becomes extraordinary. That starts with an upfront and honest assessment of the lighting features that work best for your home and ends with our "No Hassle, No Excuses, No Nonsense, You'll Love Our Work" Guarantee—every inch of your landscape lighting will be designed and installed to your satisfaction. Reach out today to discuss what you're looking for, and we'll call you back within 24 hours to schedule an onsite assessment.
Enjoy a Convenient and Comprehensive Landscape Upgrade With
ScapeWorx's Design, Installation, and Construction Services
Transform your landscape from ordinary into extraordinary with professional landscaping services built to serve Glen Mills, Pennsylvania, and other Philadelphia suburbs. The ScapeWorx team excels at designing and installing custom landscapes that will boost your curb appeal and be a genuine joy to come home to. Ready to get started? Here's our no-hassle process where you tell us what you're looking for and we create a beautiful landscape that exceeds your expectations. We do the hard work so you can enjoy the transformation.
Homeowners Across Glen Mills, Pennsylvania, Trust Our Expertise in Lighting Design and Installation
See How Professionally Installed Landscape Lighting Transforms Your Home's Exterior
See how the right combination of different lighting hardware can instantly warm your home and boost its curb appeal. Visit our online gallery to find inspiration for lighting designs across outdoor living spaces, intricate gardens, and large estates. Tell us what designs you'd love to see in your own landscape!
Pair Your Landscape Lighting With Beautiful New Plants and Exterior Features
Don't juggle multiple landscapers or take on tasks that your professional landscaping company should be handling for you. At ScapeWorx, we do it all so you can enjoy collaborating with expert designers to create your landscape and then sit back to watch the new design come to life around your home. Even better, once your landscape installation is complete, we're here with comprehensive maintenance options.
We Specialize in Landscape Lighting
for Glen Mills, Pennsylvania Homes
The team of landscaping experts at ScapeWorx Landscape Design & Maintenance is committed to excellence. Glen Mills, Pennsylvania, residents get five-star, no-nonsense landscaping services they can rely on from start to finish. We provide fast, clear communication, friendly service, and honest work. If you live in one of our service areas, we'll take your property from ordinary to extraordinary, and we'll keep working until it meets our standards for excellence. We serve these suburbs in the Philadelphia, Pennsylvania area:
For landscaping design and installation:
Berwyn, Pennsylvania
Kennett Square, Pennsylvania
The Main Line
Thornton, Pennsylvania
For customized landscape maintenance services:
Media, Pennsylvania
Thornton, Pennsylvania

Berwyn, PA
Berwyn, PA
Chadds Ford, PA
Garnet Valley, PA
Gladwyne, PA
Gladwyne, PA
Glen Mills, PA
Kennett Square, PA
Kennett Square, PA
Lower Merion, PA
Lower Merion, PA
Media, PA
Media, PA
Newton Square, PA
Newton Square, PA
Thornton, PA
Thornton, PA
Wallingford, PA
Wallingford, PA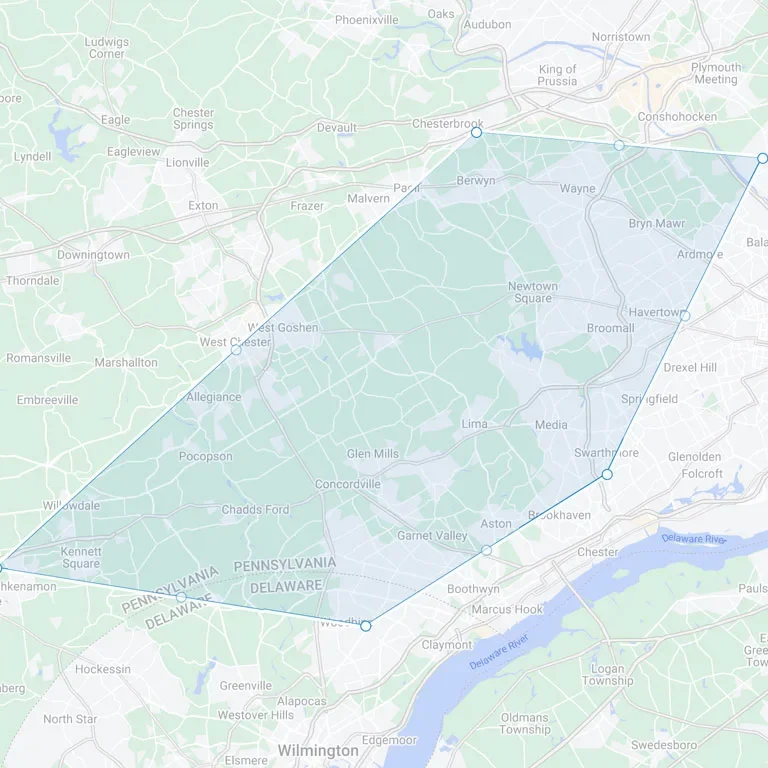 Ready to Enjoy Your Landscape Even More?
Call Today to Start Discussing Your Landscape Lighting Options
Landscape lighting offers functionality, beauty, and upscale curb appeal for every property, especially when it's designed and installed by experts. ScapeWorx is committed to creating an eye-catching design that elevates your home and brings you joy. Reach out today to tell us what you'd love to see in your landscape, and we'll reach out to schedule your on-site assessment and start planning the details.