Choose ScapeWorx Landscape Design & Maintenance to Create the Right Landscape Your Way
Tired of your current landscape? Trade out patchy grass and the former owner's hedges for your dream landscape. Find native grasses that thrive throughout Pennsylvania's growing seasons. Line your front paths with evergreens and hedges you love, set in a sweeping bed of crisply edged mulch, and switch out those paths for stone or cobblestone sidewalks and driveways with just the right level of charm. Instead of making do with a landscape that's "good enough," finalize the details of your dream landscape with the local landscape installation experts at ScapeWorx Landscape Design & Maintenance.
We start the process with a Dream Meeting that's all about you: your favorite plants, your ideal landscape layout, and all your favorite parts of the outdoors. Then our team of designers will create a customized landscape design plan that combines those details and style elements with the drainage, dimension, and soil needs of your unique property. The result is a well-crafted, well-balanced landscape that will thrive during season after season of growth. Even better, your dream landscape installation comes with peace of mind: our warranties guarantee years of long-lasting durability and eye-catching lawns. Every landscape comes with our "No Hassle, No Excuses, No Nonsense, You'll Love Our Work Guarantee," with warranties for hardscaping, landscape lighting, and seeds. Combined with our foundational focus on well-constructed drainage, healthy sod, and landscape maintenance, you'll come home to a landscape that lasts for years and that you'll love for just as long. Connect with us today to schedule your meeting.
Sit Back and Watch Your Dream Landscape Become Your Real Landscape
Transform your landscape from ordinary into extraordinary with professional landscaping services built to serve Glen Mills, Pennsylvania, and other Philadelphia suburbs. The ScapeWorx team excels at designing and installing custom landscapes that will boost your curb appeal and be a genuine joy to come home to. Ready to get started? Here's our no-hassle process where you tell us what you're looking for and we create a beautiful landscape that exceeds your expectations. We do the hard work so you can enjoy the transformation.
Explore What's Possible With Landscape Installation From Glen Mills, Pennsylvania, Experts
Don't just take our word for it. Visit our online gallery to see how our commitment to hard work and excellence is transforming landscapes across our local community.
Landscape Installation Is Just the Start With ScapeWorx
Don't juggle multiple landscapers or take on tasks that your professional landscaping company should be handling for you. At ScapeWorx, we do it all so you can enjoy collaborating with expert designers to create your landscape and then sit back to watch the new design come to life around your home. Even better, once your landscape installation is complete, we're here with comprehensive maintenance options.
Live in Glen Mills, Pennsylvania?
We Can Break Ground on Your Custom Landscape
The team of landscaping experts at ScapeWorx Landscape Design & Maintenance is committed to excellence. Glen Mills, Pennsylvania, residents get five-star, no-nonsense landscaping services they can rely on from start to finish. We provide fast, clear communication, friendly service, and honest work. If you live in one of our service areas, we'll take your property from ordinary to extraordinary, and we'll keep working until it meets our standards for excellence. We serve these suburbs in the Philadelphia, Pennsylvania area:
For landscaping design and installation:
Berwyn, Pennsylvania
Kennett Square, Pennsylvania
The Main Line
Thornton, Pennsylvania
For customized landscape maintenance services:
Media, Pennsylvania
Thornton, Pennsylvania

Berwyn, PA
Berwyn, PA
Chadds Ford, PA
Garnet Valley, PA
Gladwyne, PA
Gladwyne, PA
Glen Mills, PA
Kennett Square, PA
Kennett Square, PA
Lower Merion, PA
Lower Merion, PA
Media, PA
Media, PA
Newton Square, PA
Newton Square, PA
Thornton, PA
Thornton, PA
Wallingford, PA
Wallingford, PA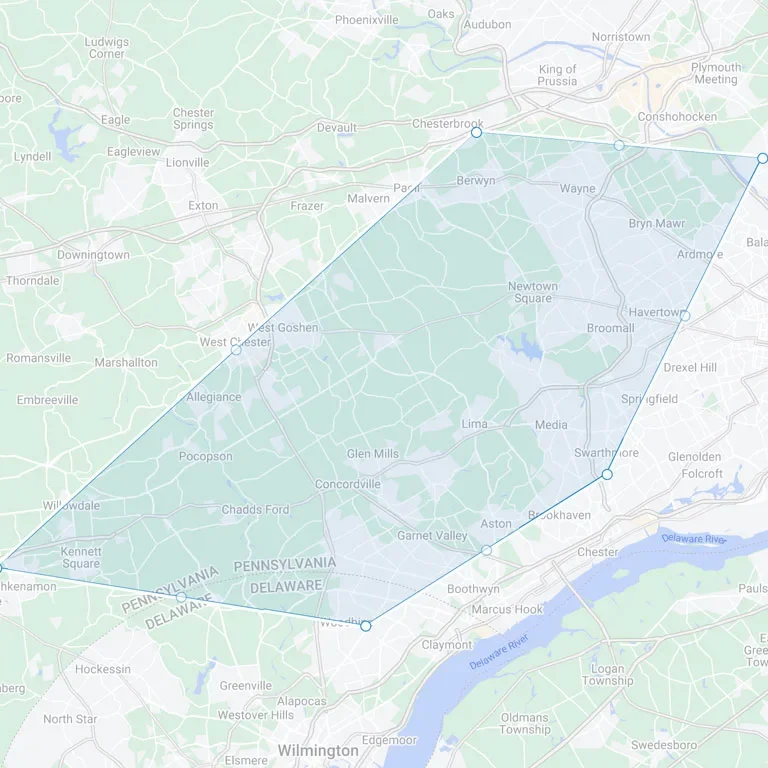 Contact Us Today to Schedule Your
Landscape Installation's Dream Meeting
Ready to ditch your old landscape and come home to something newer that's right just for your style and home? The landscape design and installation team at ScapeWorx is here to make it happen. Contact us or fill out our simple online form to take the first step.