Choose Personalized Design, Professional Installation, and Complete Project Management With ScapeWorx Landscape Design & Maintenance
Ready to come home to a relaxing outdoor living space? You can grill outside or cook up a quick pizza in a custom outdoor kitchen, watch the sunset with loved ones, and relax around a fire pit, no matter the season. Luxurious outdoor living spaces let you enjoy all the best parts of being outdoors right in the convenience of your own backyard in Garnet Valley, Pennsylvania.
The outdoor living space of your dreams is the perfect place to relax after a long day or invite friends and family over. Our custom design process is built to give you a backyard retreat filled with your favorite styles and features. We build spaces built to last throughout the seasons so you can enjoy the outdoors every season. It's all part of our guarantee to provide the best possible service with:
Commitment to high-quality services: We work hard and create comprehensive plans for every property so you know you're coming home to long-lasting, durable outdoor features and constructions.
Expertise: We're the local experts in innovative construction and design for Philadelphia-area outdoor living spaces. We can transform your property from ordinary to extraordinary.

Upfront and clear-cut communication: We'll call you back within 24 hours any time you have a question or are ready to start a new project. We also provide honest assessments about what can work on your property and how to make everything work on your unique property.
You also get our "No Hassle, No Excuses, No Nonsense, You'll Love Our Work Guarantee." We offer multi-year warranties for your peace of mind and continually strive to provide high-quality work that follows best practices and results in beautiful outdoor living spaces. Reach out today to start creating your new outdoor oasis.
Watch Your Dream Outdoor Space Take Shape Across Our Simple Seven-Step Process
Transform your landscape from ordinary into extraordinary with professional landscaping services built to serve Glen Mills, Pennsylvania, and other Philadelphia suburbs. The ScapeWorx team excels at designing and installing custom landscapes that will boost your curb appeal and be a genuine joy to come home to. Ready to get started? Here's our no-hassle process where you tell us what you're looking for and we create a beautiful landscape that exceeds your expectations. We do the hard work so you can enjoy the transformation.
Our Customers Love Coming Home to an Outdoor Living Space They Know Was Built to Last
Want to See What's Popular in Philadelphia? Explore Our Gallery of Completed Projects
Visit our online portfolio to see different layouts, features, and materials that you can add to your dream outdoor space. Every image also shows our commitment to high-quality work and attention to detail, and you can expect the same level of detail in your own outdoor space.
Combine Luxurious Outdoor Living With Complete Landscape Maintenance—We Do It All
Don't juggle multiple landscapers or take on tasks that your professional landscaping company should be handling for you. At ScapeWorx, we do it all so you can enjoy collaborating with expert designers to create your landscape and then sit back to watch the new design come to life around your home. Even better, once your landscape installation is complete, we're here with comprehensive maintenance options.
Creating Trendy and Beautiful Outdoor Living Spaces Across Garnet Valley, Pennsylvania
The team of landscaping experts at ScapeWorx Landscape Design & Maintenance is committed to excellence. Glen Mills, Pennsylvania, residents get five-star, no-nonsense landscaping services they can rely on from start to finish. We provide fast, clear communication, friendly service, and honest work. If you live in one of our service areas, we'll take your property from ordinary to extraordinary, and we'll keep working until it meets our standards for excellence. We serve these suburbs in the Philadelphia, Pennsylvania area:
For landscaping design and installation:
Berwyn, Pennsylvania
Kennett Square, Pennsylvania
The Main Line
Thornton, Pennsylvania
Wallingford, Pennsylvania
For customized landscape maintenance services:
Media, Pennsylvania
Thornton, Pennsylvania
Wallingford, Pennsylvania

Berwyn, PA
Berwyn, PA
Chadds Ford, PA
Garnet Valley, PA
Gladwyne, PA
Gladwyne, PA
Glen Mills, PA
Kennett Square, PA
Kennett Square, PA
Lower Merion, PA
Lower Merion, PA
Media, PA
Media, PA
Newton Square, PA
Newton Square, PA
Thornton, PA
Thornton, PA
Wallingford, PA
Wallingford, PA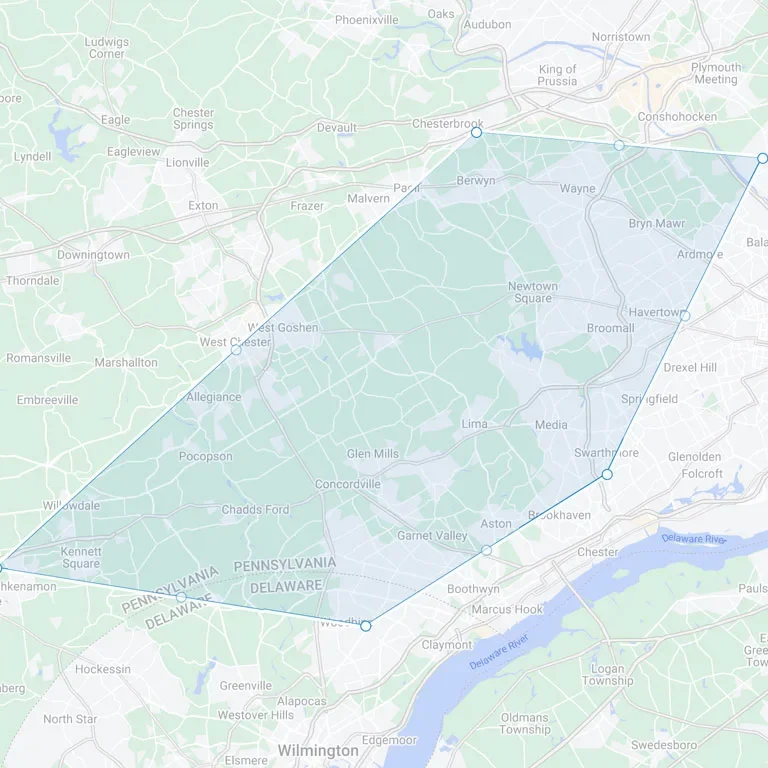 Schedule Your Dream Meeting
With Our Team to Break Ground on Your Outdoor Oasis
Already have a vision of what your outdoor dream space should look like? Contact us today by filling out our easy online form. We'll reach out within 24 hours to discuss more details and schedule an onsite walkthrough.