ScapeWorx Landscape Design & Maintenance Does It All So You Have a Landscape You Love
Premium landscapes are designed with all the tools they need to handle the elements. Whether it's custom, efficient irrigation systems for dry spells during the summer or mulch beds to insulate fragile roots during cold winters, landscaping designs focus on more than just a picture-perfect layout. At ScapeWorx Landscape Design & Maintenance, we prioritize high-quality drainage solutions in every custom landscape design. We strive to create beautiful, cohesive options that work behind the scenes to keep your landscape free of mud and standing water. As part of our "No Hassle, No Excuses, No Nonsense, You'll Love Our Work Guarantee," you get comprehensive drainage, including:
French drains that can form crisp borders around footpaths, patios, and flower beds to direct water away

Lawn and soil grading to correct any unwanted gradients in the soil so water always drains away from your house and plantings

Erosion control measures to keep the soil in place and prevent erosion from water and wind
The ScapeWorx team is committed to excellent landscaping that goes below the surface so your Garnet Valley, Pennsylvania, property looks great season after season, even after a rainy day. We'll start your landscape design with a comprehensive assessment of what drainage solutions are the right options for your property, with no second-guessing, upselling, or shortcuts. We show up and work, and we know what we're doing every step of the way. You'll also have a project manager and foreman providing constant updates and expert answers to all of your questions throughout the project. Reach out today to get landscape design and installation services you can trust from start to finish. Then we'll call you back within 24 hours to schedule your onsite assessment.
We Have an All-in-One Process So You Never Have to Juggle
Multiple Contractors, Landscapers, or Drainage Companies
Transform your landscape from ordinary into extraordinary with professional landscaping services built to serve Glen Mills, Pennsylvania, and other Philadelphia suburbs. The ScapeWorx team excels at designing and installing custom landscapes that will boost your curb appeal and be a genuine joy to come home to. Ready to get started? Here's our no-hassle process where you tell us what you're looking for and we create a beautiful landscape that exceeds your expectations. We do the hard work so you can enjoy the transformation.
Garnet Valley, Pennsylvania, Homeowners Choose Our Solutions Over Other Drainage Companies
See How Precision Installed Drainage & Grading Will Beautify Your Landscape
Visit our portfolio of Garnet Valley, Pennsylvania, landscaping projects to see how the right drainage can do the heavy lifting on keeping your landscape pristine. See how professional soil grading can even out a landscape and how erosion control can slip right into the background of every landscape. You'll also see how French drains make drainage a trendy feature instead of an ugly necessity.
Combine Grading with Drainage with Ongoing Professional Maintenance and Always Come Home to a Stunning Landscape
Don't juggle multiple landscapers or take on tasks that your professional landscaping company should be handling for you. At ScapeWorx, we do it all so you can enjoy collaborating with expert designers to create your landscape and then sit back to watch the new design come to life around your home. Even better, once your landscape installation is complete, we're here with comprehensive maintenance options.
Providing Custom Grading and Drainage Built
for Garnet Valley, PA, Homes
The team of landscaping experts at ScapeWorx Landscape Design & Maintenance is committed to excellence. Glen Mills, Pennsylvania, residents get five-star, no-nonsense landscaping services they can rely on from start to finish. We provide fast, clear communication, friendly service, and honest work. If you live in one of our service areas, we'll take your property from ordinary to extraordinary, and we'll keep working until it meets our standards for excellence. We serve these suburbs in the Philadelphia, Pennsylvania area:
For landscaping design and installation:
Berwyn, Pennsylvania
Kennett Square, Pennsylvania
The Main Line
Thornton, Pennsylvania
For customized landscape maintenance services:
Media, Pennsylvania
Thornton, Pennsylvania

Berwyn, PA
Berwyn, PA
Chadds Ford, PA
Garnet Valley, PA
Gladwyne, PA
Gladwyne, PA
Glen Mills, PA
Kennett Square, PA
Kennett Square, PA
Lower Merion, PA
Lower Merion, PA
Media, PA
Media, PA
Newton Square, PA
Newton Square, PA
Thornton, PA
Thornton, PA
Wallingford, PA
Wallingford, PA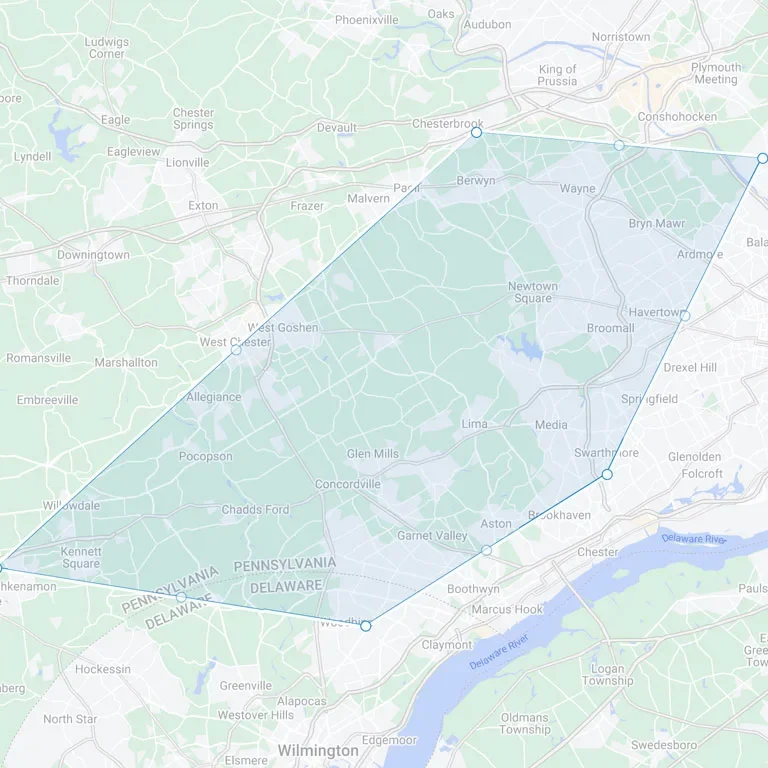 Tired of a Muddy Landscape?
ScapeWorx Landscape Is Here to Help!
Having separate landscaping and drainage companies can leave your landscape wet and muddy. Our team can assess your landscape and create a comprehensive plan for installing beautiful landscaping elements, including long-lasting drainage. Reach out today to get started.