Get Personalized Care and Services From ScapeWorx Landscape Design & Maintenance
As the seasons change, your landscape changes with it. Trees and shrubs continue to grow and lose their leaves, flowering annuals need attention and replacement, and lawns need a schedule of weed and fertilizing treatments to encourage good growth and healthy soil. At ScapeWorx Landscape Design & Maintenance, we provide comprehensive landscaping maintenance services, include:
Frequent bed edging so your garden beds and front paths have crisp, clean edges
Complete lawn care and maintenance, including mowing, lawn treatments for healthy growth, and lawn aeration to break up the soil and allow your sod to grow strong, deep roots
Weed control to stop weeds in their tracks
Seasonal lawn care so your landscape is ready for the cold and summer seasons with fresh grass seeds and composting
Seasonal cleanup to clear away falling leaves and blooms
Tree and shrub pruning so your landscape is always crisp and fresh
Garden bed maintenance for clean garden beds, no weeds, and neatly pruned plants
All of these services and more, all customized to suit the unique needs of your landscape, lifestyle, and budget
Take lawn and landscaping chores off your weekly list of tasks so you can spend more of your evenings relaxing with a glass of wine from the local Chaddsford Winery or spend the evening at your favorite golf course or out with the family. Our team of trained landscaping experts will provide ongoing landscaping maintenance services at reliable appointments so your yard is consistently beautiful and your curb appeal is always high.
ScapeWorx is well-known throughout the Chadds Ford, Pennsylvania, area for our commitment to quality that goes above and beyond. Have peace of mind with our "No Hassle, No Excuses, No Nonsense, You'll Love Our Work" Guarantee, in which we promise to provide transparent communication, reliable scheduling, and comprehensive service options so your landscape always has exactly what it needs, well before it needs it. We show up, work, and do it right so you can come home to a beautifully maintained landscape throughout the year. Expect expertise at every turn, from knowing how to prepare grassy lawns for summer growing seasons or preparing plantings for Pennsylvania winters. Reach out today to schedule a walkthrough of your property and start getting effortlessly excellent service.
Reach Out for Landscape Renovations, Maintenance Services, and More—We Make It Simple
Transform your landscape from ordinary into extraordinary with professional landscaping services built to serve Glen Mills, Pennsylvania, and other Philadelphia suburbs. The ScapeWorx team excels at designing and installing custom landscapes that will boost your curb appeal and be a genuine joy to come home to. Ready to get started? Here's our no-hassle process where you tell us what you're looking for and we create a beautiful landscape that exceeds your expectations. We do the hard work so you can enjoy the transformation.
Our Clients Trust Our Commitment to Quality Services
Browse Our Gallery for Inspiration
Want to spruce up your landscaping? Visit our online portfolio to see how our design, installation, and maintenance services can transform your property. See how professional pruning, ongoing lawn treatments, and seasonal cleanup will make your landscape picture-perfect.
Enjoy Completely Effortless Curb Appeal With All of Our Expert Landscaping Services
Don't juggle multiple landscapers or take on tasks that your professional landscaping company should be handling for you. At ScapeWorx, we do it all so you can enjoy collaborating with expert designers to create your landscape and then sit back to watch the new design come to life around your home. Even better, once your landscape installation is complete, we're here with comprehensive maintenance options.
Serving Homeowners Across
Chadds Ford, Pennsylvania
The team of landscaping experts at ScapeWorx Landscape Design & Maintenance is committed to excellence. Glen Mills, Pennsylvania, residents get five-star, no-nonsense landscaping services they can rely on from start to finish. We provide fast, clear communication, friendly service, and honest work. If you live in one of our service areas, we'll take your property from ordinary to extraordinary, and we'll keep working until it meets our standards for excellence. We serve these suburbs in the Philadelphia, Pennsylvania area:
For landscaping design and installation:
Berwyn, Pennsylvania
Kennett Square, Pennsylvania
The Main Line
Thornton, Pennsylvania
For customized landscape maintenance services:
Media, Pennsylvania
Thornton, Pennsylvania

Berwyn, PA
Berwyn, PA
Chadds Ford, PA
Garnet Valley, PA
Gladwyne, PA
Gladwyne, PA
Glen Mills, PA
Kennett Square, PA
Kennett Square, PA
Lower Merion, PA
Lower Merion, PA
Media, PA
Media, PA
Newton Square, PA
Newton Square, PA
Thornton, PA
Thornton, PA
Wallingford, PA
Wallingford, PA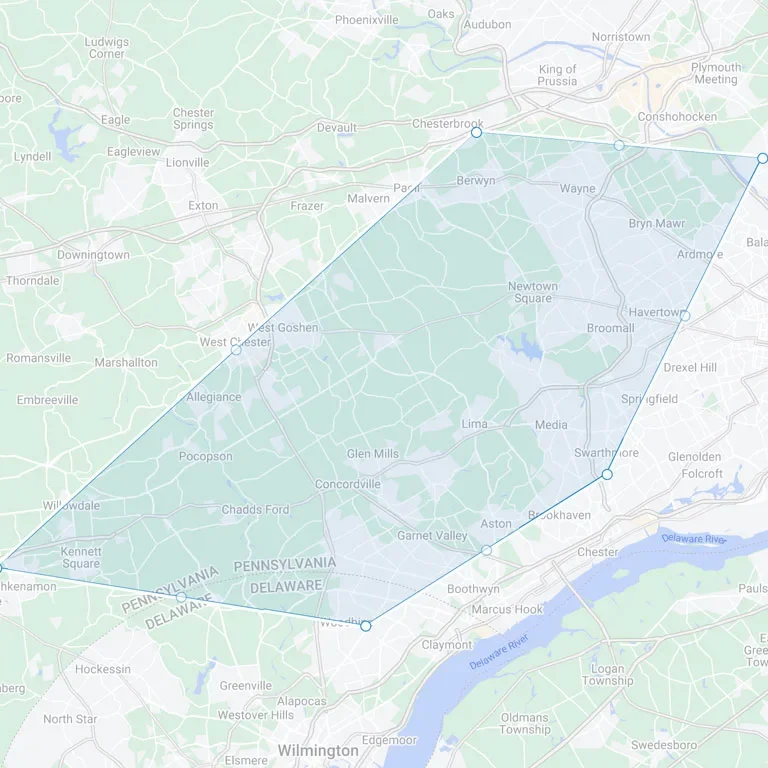 Come Home to a Beautiful Landscape
Without the Hassle
Landscaping maintenance from local professionals does more than beautify your property. It keeps your landscaping healthier and gives you back more time for doing what you love. Reach out today to tell us what you're looking for, and we'll schedule a convenient on-site walkthrough to discuss what services and schedules fit your needs best.