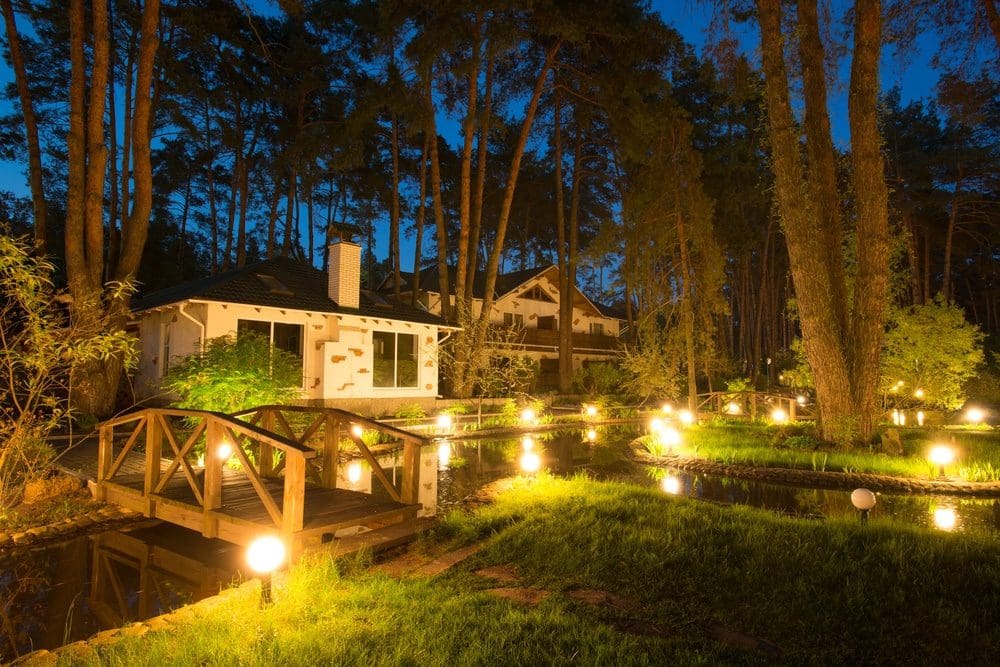 Homeowners invest a lot of time and money into making the outside of their homes look great. Why should all that eye-catching beauty fade to black when night falls? As the top hardscaping company in and around Chester County, PA, we provide outdoor lighting solutions that highlight homes' unique architectural features and well-manicured yards while adding increased safety and security to any outdoor area.
We can cast your home in the best possible light, adding to the property's aesthetic value while highlighting its attributes and qualities. Here are just a few benefits of a landscape lighting installation from Scapeworx.
Illuminate Your Outdoor Living Area
The patio and backyard areas of a house are perfect places to entertain guests, cook meals, and enjoy time with the kids. Outdoor lighting enhances these areas and makes them not just usable, but appealing in the evenings. Outdoor lighting can add ambience to your outdoor spaces, making them more cozy, relaxing, and beautiful. Landscape lighting fixtures come in a wide variety of shapes, shades, and sizes. From functional to decorative, it's hard to go wrong with any of our options.
Enhance the Value of Your Property
If you install outdoor landscape lighting to your home, it will increase the "curb appeal" and overall value of your property immediately. A great percentage of potential home buyers regard outdoor lighting as an essential quality when purchasing a property. How outdoor lighting highlights the features of a property can increase its aesthetic value. Outdoor lighting is an excellent way of enhancing what is already there, making your home look stunning to neighbors, guests, and potential buyers.
Add Security to Your Home
Darker homes look more attractive to potential thieves. Landscape lighting can act as a deterrent, as more light draws attention to a trespasser trying to get near to a property. Additionally, your insurance company may offer you a discount on your homeowners policy if you install additional exterior lighting.
Keep Guests and Family Safe
Outdoor lighting is an excellent way to make your home safer for family, friends, and guests. You can utilize light posts to illuminate walkways, paths, and driveways. You can also highlight stairs and uneven areas, preventing injuries in the evenings. This can also decrease the risk of a passerby slipping and falling close to your property, not to mention the possible legal action that this could bring.
If you want to discuss outdoor landscape lighting options for your property with an expert in the subject, call the most forward-thinking landscaping company in Media, PA, at 484-684-5500 or click here for a free estimate.